'The Hangover: Part III' May Not Have The Exact Same Plot As The First Two Films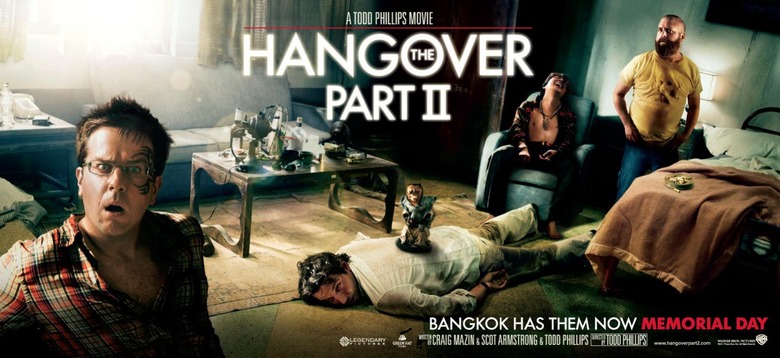 A significant amount of discussion about the quality of The Hangover: Part II revolved around the fact that it was basically a remake of the first film, both in its plot structure and in its story beats. In a column on the subject, Matt Singer writes the following:
Why are there different standards for horror and comedy sequels? You can't say that comedy is different from horror because jokes depend on surprise — so do horror films. We watch great comedies over and over, savoring the stars' delivery, memorizing our favorite jokes. I couldn't count the number of times I've seen "Blazing Saddles" or "The Naked Gun" . . . Repetition and ritualization is part of the fun of great comedy. So what's the problem with repeating and ritualizing it in the form of a movie like "The Hangover Part II?"
Looks like we won't need to reflect on these existential questions anymore, because according to a new interview with actor Zach Galifianakis, the third Hangover film may jettison the plot structure from the first two films in favor of something completely different. Read more to hear what we know so far.
According to Rolling Stone (via The Playlist), Galifianakis is already being pestered about doing a third entry into the series. "They want to do a Hangover III...I'm getting fricking phone calls already," says Galifianakis. The third film evidently "focuses on [Galifianakis'] character escaping from a mental institution with help from the wolf pack." Maybe recently hired screenwriter Craig Maizin has a couple new ideas up his sleeve after all...
I can't imagine Zach Galifianakis is pleased with the prospect of another sequel. According to Time magazine's profile of the man, Galifianakis has a "hate-hate" relationship with his fans and is particularly uncomfortable with the levels of fame that The Hangover brought to him. Also, lately, it feels like my colleagues from the /Filmcast and my friends in real life are suffering from Galifianakis Fatigue Syndrome (GFS), in which they have grown tired of his on-screen oafishness and buffoonery. But perhaps a new format will help restore The Hangover into critics' good graces (not that the films need it).
Obviously this is preliminary information and things may be subject to change, but what do you guys think? Are you excited for a third Hangover film, and would you want to see it even if it was completely different than the first two films?