Harvey Weinstein Still Hoping To Make 'Rounders 2'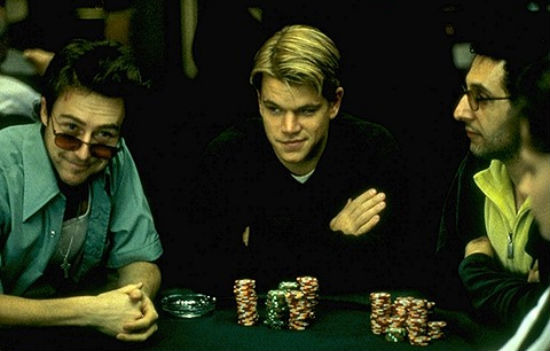 When last we left Mike McDermott he was in a New York City cab, heading down Broadway, on his way to Las Vegas and the World Series of Poker. The year was 1998 and Miramax's poker movie Rounders, starring Matt Damon and Edward Norton, made a paltry $23 million at the box office. Fortunately for us, the movie was ahead of its time. Soon after the film's release, the world of poker changed drastically. The invention of card cameras and the 2003 $2.5 million Main Event victory of everyman Chris Moneymaker, who cites Rounders as one of his biggest influences, made the game of poker boom in a huge way. In 1999, the year that Damon's Rounders character would have played in the World Series Main Event, 393 people competed and the winner made $1 million. Seven years later, 8,773 competed in the same event with the winner taking home $12 million.
So though Rounders was a theatrical bust, the poker boom made it a home video smash, grossing $70 million in profit for Miramax. The film was recently on a list of catalog titles Miramax was hoping to sequelize along with The Weinstein Company and this week Harvey Weinstein himself, a producer of the original movie and former head of the studio that released it, said he's still trying to get a sequel to Rounders made.
Weinstein discussed the film at the Produced By Conference (thanks to The Hollywood Reporter) where the topic of theatrical versus DVD revenues was discussed. Because Rounders eventually became so profitable because of DVD, it made everyone realize there's an audience for the sequel. Weinstein said:
The video has gotten such awareness. I never make sequels but it's something I'd like to revisit.
Obviously though, Rounders 2 would have to work on the theatrical end this time around. The business is weighted more toward theatrical now because movies make less with DVD sales then a few years ago. Presumably that's because of digital options but the profit for those options have not made up the difference.
It's working without a net right now, until VOD and the Internet situation matures. (At present) they are not working like DVD did.
In the past we've heard that the Rounders writers, David Levien and Brian Koppelman, have been thinking about a sequel, plus Matt Damon and Edward Norton have always said they'd be up for the film. It's just a matter of everything happening at the right time.
I actually saw Rounders in theaters but didn't full appreciate it until home video. Now I can – and do – quote it regularly and consider myself a huge fan. However, while I'd love to see these characters return, I think the Weinsteins missed their window for a sequel. Curtis Hansen made a (terrible) poker movie closer to the apex of the poker boom, Lucky You, and it was not successful. Then again, that film didn't have the name recognition of Rounders, Damon and Norton.
Do you think this sequel will ever happen? Where would you want to see the story go?