Jim Carrey Says 'Bruce Almighty' And 'Dumb And Dumber' Sequels Might Be In The Offing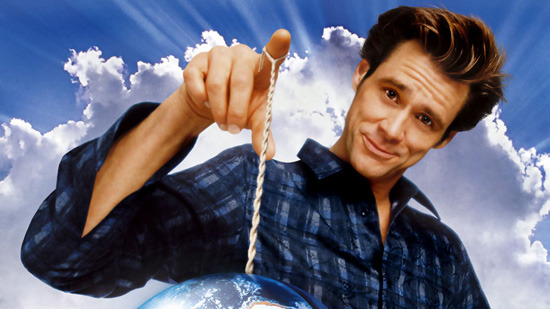 That's not the world Jim Carrey has  on a yo-yo string in the photo above; it is our comedy-loving heart. *sob!* So does Jim Carrey (or his agent) think it's time for him to go back to some established crowd-pleasing roles? It sounds that way. He's got the kid-friendly Mr. Popper's Penguins coming out shortly, but while promoting that film he said that he's considering new films featuring characters that performed well in the past. Which is to say, we may see Carrey-equipped comedies to two of his films that have already made sequels without him: Dumb and Dumber and Bruce Almighty.
The idea of another Bruce Almighty seems like a stretch after the massive cost overruns and underperformance of the sequel, Evan Almighty. But a new Dumb and Dumber film isn't something that comes out of the blue. Read on...
First up, here's what Jim Carrey told ComingSoon (and we're taking this quote as if it was delivered with a straight face, which is how CS presents it):
We're talking about maybe returning to some old characters that everyone has been asking about ...There's Bruce Almighty and we're talking about maybe another Dumb and Dumber.
The idea of a new sequel to the 1994 comedy hit Dumb and Dumber isn't all that outlandish, because we've heard about it before, from one of the directors. Earlier this year, Bobby Farrelly told Moviehole,
If we could get those two guys back together, Jim Carrey and Jeff Daniels that might be a worthwhile sequel – and that ball is in motion. We're starting to think about what those two dimwits would be doing twenty-years later in life, and hopefully we'll be able to come up with something worthy of a sequel.
So: have at it. Does this seem like a proper career step, or a nostalgic ploy to recapture an old audience?