Joe Wright's 'Anna Karenina' Welcomes Saoirse Ronan, Kelly Macdonald, Olivia Williams And More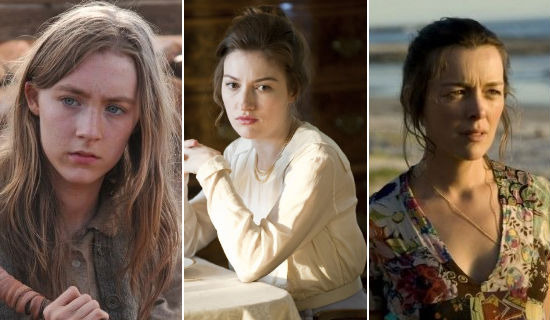 After taking a break to make the kick-ass action flick Hanna, Joe Wright is back to his classically literary tricks. The director of Pride and Prejudice and Atonement will return to costumed drama for his next film, a star-studded adaptation of Leo Tolstoy's classic novel Anna Karenina. Already cast are Keira Knightley as the title character, Jude Law as her older husband and Aaron Johnson as her younger love. Wright is rounding out his ensemble with a solid list of names such as Saoirse Ronan, Kelly Macdonald, Olivia Williams, Matthew Macfadyen, Domhnall Gleeson and Andrea Riseborough. Read who each will be playing after the break.
Thanks to the Daily Mail (with a heads up to Coming Soon) for this info.
According to the story Macfadyen (Pride and Prejudice) will play Karenina's brother, Macdonald (Trainspotting) his wife, and Ronan (Hanna) the wife's sister. Williams (Rushmore) will play Johnson's characters mother (still keeping track?), Gleeson, (Bill Weasley in the Harry Potter films) is a family friend named Levin and Riseborough (Happy Go Lucky) plays a character named Princess Betsy.
Anna Karenina, held as one of Tolstoy's masterpieces and sometimes called one of the greatest novels ever written, is set in 19th Century Russia and follows a young woman married to an older man who gives into her desires to be with a younger man, setting off a chain reaction of personal devastation.
We know this is Wright's wheelhouse. Ditto for almost everyone he's cast in the film. And with such strong source material, we could have another Wright Oscar contender on our hands once again. It reportedly begins filming in September.