Rebecca Hall And Benedict Cumberbatch To Star In HBO WWI Series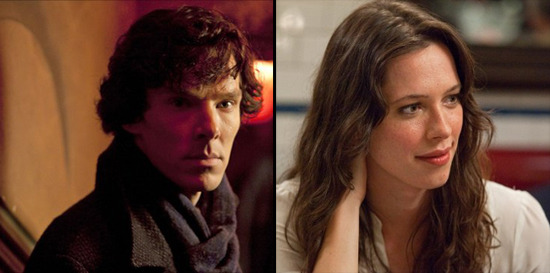 After finally watching Sherlock I'm ready to see anything with a role for Benedict Cumberbatch. Luckily there are already a few on the way: The Whistleblower; Tinker, Tailor, Soldier, Spy; and eventually the second Sherlock season and The Hobbit.
Add one more to the list, as HBO has just given the green light to Parade's End, a WWI-set drama that will star both the modern Sherlock and Rebecca Hall. And it has a Tom Stoppard script!
Deadline reports on the development, noting that this is based on the novel by Ford Madox Ford. The novel was originally published in parts in the mid-'20s, and led to this screenplay, about "a complex and destructive love triangle among a conservative English aristocrat (Cumberbatch), his beautiful but cruel socialite wife (Hall), and a vibrant young suffragette." The destruction of World War I is the backdrop, but we don't know how much action, if any, will be shown on screen.
We also don't know who'll play the third core character, but she'll be in good company. Benedict Cumberbatch and Rebecca Hall make a very eye-catching star cast, and I'm looking forward to seeing what Hall does with this part. Susanna White, director of Generation Kill, will direct the five-part miniseries.\
Here's some info on the novel, which makes it sound as if we can look forward to quite an epic, and possibly quite an affecting series.
Published in four parts between 1924 and 1928, his extraordinary novel centers on Christopher Tietjens, an officer and gentleman-"the last English Tory"-and follows him from the secure, orderly world of Edwardian England into the chaotic madness of the First World War. Against the backdrop of a world at war, Ford recounts the complex sexual warfare between Tietjens and his faithless wife Sylvia. A work of truly amazing subtlety and profundity, Parade's End affirms Graham Greene's prediction: "There is no novelist of this century more likely to live than Ford Madox Ford."