Director Hires: Don Scardino For Steve Carell Comedy 'Burt Wonderstone;' Mary Harron To Direct 'Wicked Lovely'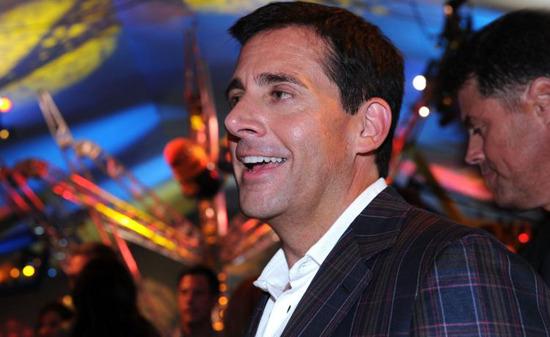 The comedy Burt Wonderstone, which is planning to star Steve Carell as a "traditional magic man who is dethroned by a hip younger illusionist and must then find a way to rediscover his love for magic," has been kicking around for a few years. John Francis Daley and Jonathan Goldstein (Horrible Bosses) wrote the script, and the film has had a couple different directors attached. Jake Kasdan was going to make the movie before Steve Carell came on board; then a few months ago Parks and Recreation director Charles McDougall was in talks to direct.
Now New Line has tapped Don Scardino, 30 Rock director, to direct. This looks like a final deal, and the movie will really start to move forward. It will shoot in October; now we have to wait to see who gets the gig playing the rival young magician.
After the break, Mary Harron takes over Wicked Lovely.
Mary Harron made an unexpected classic when she directed American Psycho, but since The Notorious Bettie Page in 2005, she has been working primarily in TV. She's finishing up a new film, The Moth Diaries, right now, and has just signed to take over an adaptation of the Melissa Marr novel Wicked Lovely. The book has received good reviews, and feeds right into the current Hollywood love affair with faerie tales, as it tells the story of a girl who catches the eye of a centuries-old faerie king.Deadline says Edward Scissorhands screenwriter Caroline Thompson wrote the script for Wicked Lovely, which features a teen lead named Aislinn. She has always been able to see faeries, but knew enough not to get their attention. But the rules she lived by get broken, and thing start to go wrong, as the synopsis below explains:
Rule #3: Don't stare at invisible faeries. Aislinn has always seen faeries. Powerful and dangerous, they walk hidden in mortal world. Aislinn fears their cruelty—especially if they learn of her Sight—and wishes she were as blind to their presence as other teens. Rule #2: Don't speak to invisible faeries. Now faeries are stalking her. One of them, Keenan, who is equal parts terrifying and alluring, is trying to talk to her, asking questions Aislinn is afraid to answer. Rule #1: Don't ever attract their attention. But it's too late. Keenan is the Summer King who has sought his queen for nine centuries. Without her, summer itself will perish. He is determined that Aislinn will become the Summer Queen at any cost—regardless of her plans or desires. Suddenly none of the rules that have kept Aislinn safe are working anymore, and everything is on the line: her freedom; her best friend, Seth; her life; everything.