'Beats, Rhymes & Life: The Travels Of A Tribe Called Quest' Trailer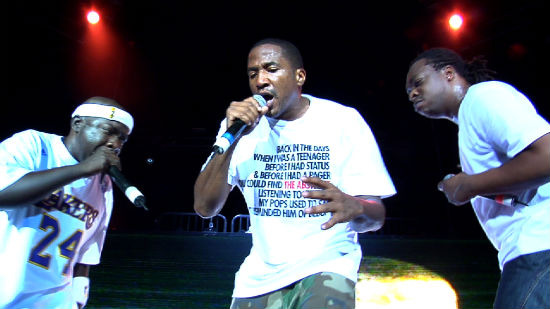 Even as a young suburban kid growing up in the 1990s, the music of A Tribe Called Quest found its way into my life. Their smooth rhymes and lyrical beats wore out my cassette player, CD player but then they seemingly disappeared for a while. At the time, without the internet or viable entertainment news, finding out what happened to the hip hop legends wasn't the easiest thing. This summer, you'll find out in a theater near you.
One of the most entertaining documentaries to play this year's Sundance Film Festival (read my glowing review here) Beats, Rhymes & Life: The Travels of a Tribe Called Quest, directed by Michael Rapaport, will enjoy a limited release on July 8 and you can see its first trailer after the jump.
Thanks to Yahoo Movies for premiering this trailer.
That trailer shows just a hint of the energy, drama and inspiring back story that Rapaport's film includes. Here's a sample of what I said about it in January:
The only way someone wouldn't find something to enjoy in Beats Rhymes & Life: The Travels of a Tribe Called Quest is if you hate hip hop as a musical genre. Even people with an open mind who aren't fans will enjoy the interpersonal relationships, the great characters and the classic story of hard work. And if you happen to be a fan of Tribe or hip hop, like myself? Then Beats Rhymes & Life will keep your head bopping for 95 straight minutes.
You can read more about the film in our original review and for more awesome Sundance movies coming out this Summer, check out this article.
Are you a fan of Tribe? Are you looking forward to this film?