Page 2: ALF, Pulp Fiction, Dragon Tattoo, Super 8, Total Recall, Scott Pilgrim, X-Men, Mr. Bean, Black Swan, Star Wars, Back To The Future, The Avengers, Doctor Who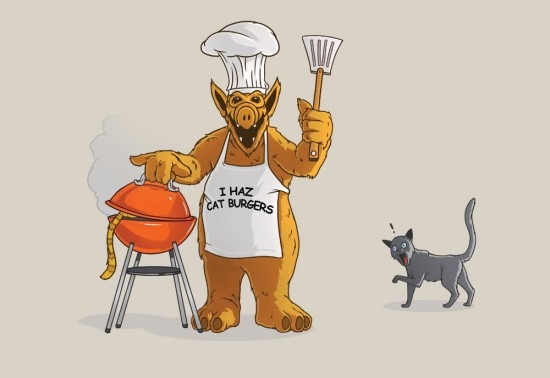 What is Page 2? Page 2 is a compilation of stories and news tidbits, which for whatever reason, didn't make the front page of /Film. After the jump we've included 46 different items, fun images, videos, casting tidbits, articles of interest and more. It's like a mystery grab bag of movie web related goodness. If you have any interesting items that we might've missed that you think should go in /Film's Page 2 – email us!
IMPA has the U.S. version of the movie poster for David Fincher's The Girl With The Dragon Tattoo.Bryan Cranston talks to Collider about playing Cohaagen in the upcoming Total Recall remake.
"I took a different path as you will see.  My path was that the Hauser character – the man I knew before his memory was erased – I am so fond of.  He is a protégé of mine and I love this kid.  To me, to find him and to capture him was about trying to restrain an unruly teenager of mine.  I have no intention of causing him any long term damage, but he needs to be punished.  He is acting out.  I have to find him and give him some tough love.  So that was my whole point.  It is that I love him and I want to protect him at all costs, but he is just testing me.  He is being challenging like a teenager would be.  That is my whole approach to it as opposed to the "I want him dead!" kind of feeling.  I want him alive and when it gets to a point where that might not be possible it breaks my heart." ... "It is going to be great.  I really love this new script and I think you will love it.  I really do."
Patrick Boivin created this stop-motion animated short film Michael Jackson vs Mr. Bean.
Anime powerhouse FUNimation sued more than 1,400 BitTorrent users who allegedly downloaded the martial arts movie The Legend Is Born: IP Man.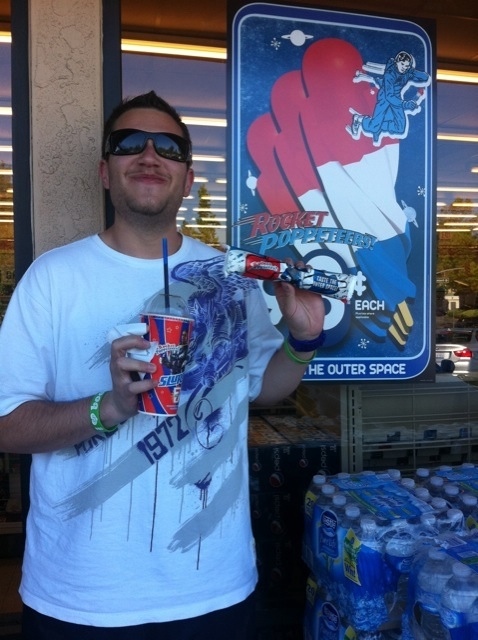 /Film reader Alex W sent in this photo of him buying a Rocket Poppeteer at a 7-11, a viral marketing stunt for JJ Abrams' Super 8.
While /Film reader Steve Z offers a better look at the sign: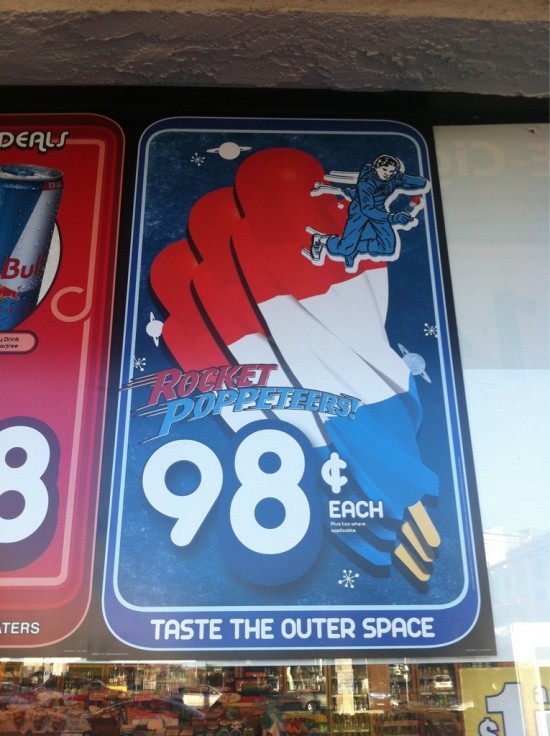 The final submission deadline for the 2012 SXSW Film Festival is November 15, 2011, which doesn't allow filmmakers to wait and see if they get accepted to Sudnance before submitting.
Practical Pictures is developing Platinum's graphic novel Alien At Large! into a movie.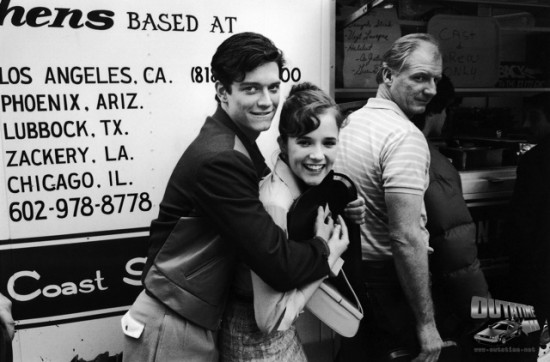 AICN has posted a rarely seen behind the scenes photo from Back to the Future, featuring Eric Stoltz as Marty McFly.Sarah Silverman is working on a new television pilot script with her The Sarah Silverman Program collaborators Jon Schroeder and Dan Sterling.
Due to the amount of graphics and images included in Page 2, we have to split this post over a BUNCH of pages. Click the link above to continue the second page of Page 2.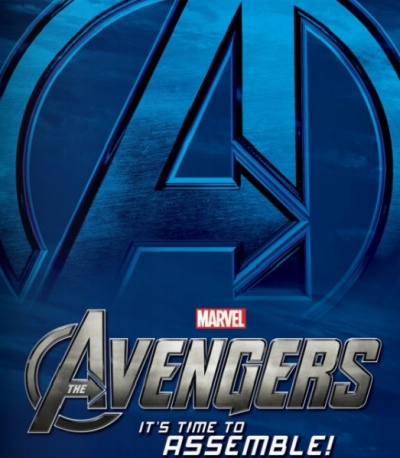 Collider has posted a look at The Avengers promo poster from the 2011 licensing expo.
Actress Clarice Taylor, who played Grandmother Huxtable on The Cosby Show, died on Monday of congestive heart failure at age 93.
Emory University has posted an interesting video titled "X-Men: Science Can Build Them, But Is It Ethical?"
Relativity Media is in talks with Lasse Hallstrom to direct its adaptation of the Nicholas Sparks novel Safe Haven.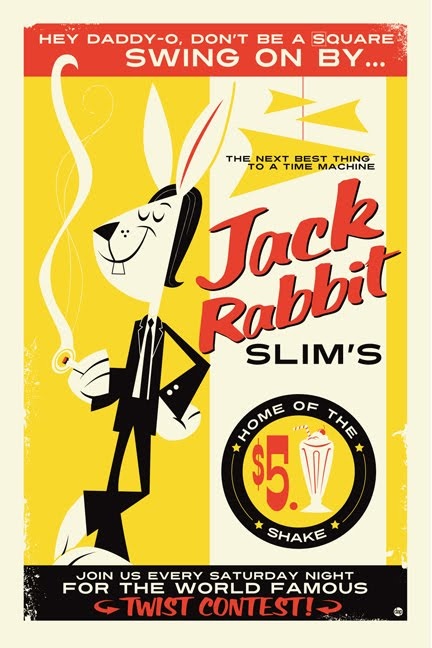 Dave Perillo has posted his awesome Pulp Fiction-inspired Jack Rabbit Slim's illustration for the Quentin vs. Coens: Road Two art show. I'm really surprised that the pop culture art of Dave Perillo hasn't exploded yet. With demand on artists like Olly Moss, he seems like the next go to guy in my opinion.
U.S. Attorney General Eric Holder has demanded that more episodes of The Wire be produced... or he'd also settle for a movie.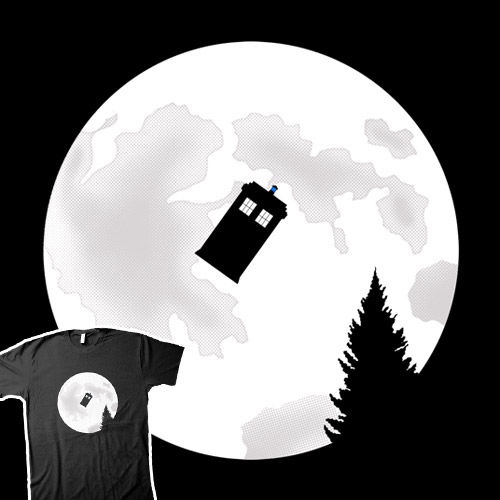 Someone has created an E.T./Doctor Who mash-up t-shirt.AM lists 10 Criminally Overlooked Movies You Should See Now.
Watch a video which shows the genius of Walt Disney's Multi-Plane Camera.
Josh Lucas (Glory Road) will play the role of Mitchell McDeere, originally played by Tom Cruise, in the small screen adaptation of John Grisham's novel The Firm.
Due to the amount of graphics and images included in Page 2, we have to split this post over a BUNCH of pages. Click the link above to continue the third page of Page 2.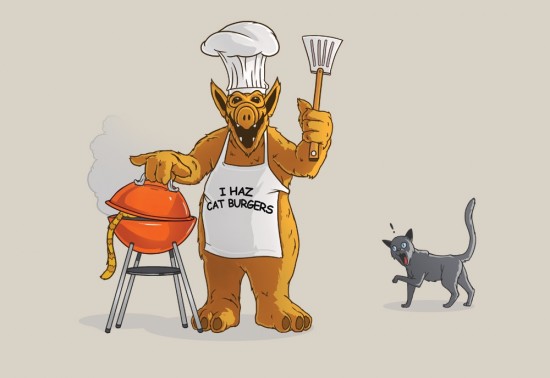 Split Reason is selling an ALF-inspired t-shirt "Cat Burgers".Rumor has it that Warner Bros might unveil Batman's new vehicles from The Dark Knight Rises at this week's The Licensing International Expo.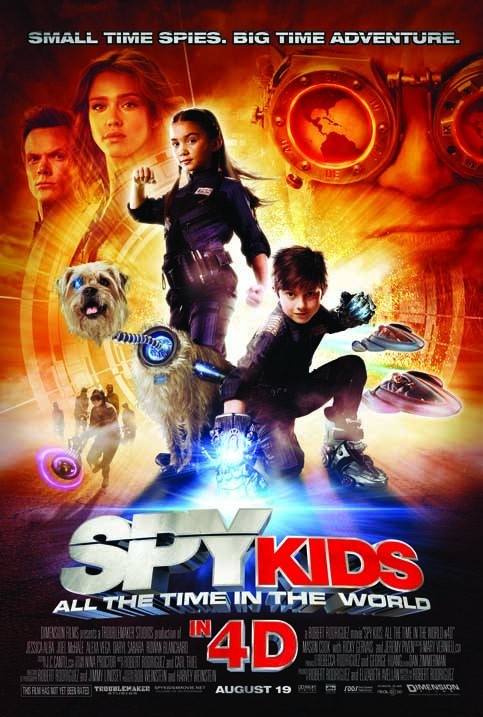 Dimension Fiklms have released the first movie poster for Robert Rodriguez's Spy Kids: All The Time In the World.
Gillian Anderson is in talks to join BBC's adaptation of Great Expectations.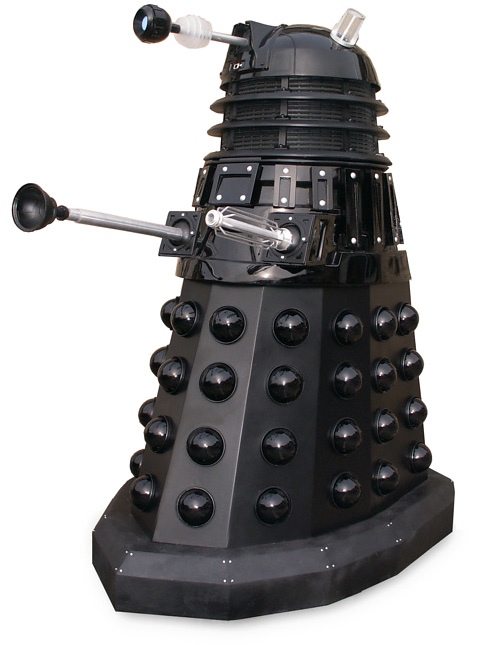 You can buy a life-size officially licensed Dalek replica from Doctor Who for £3,000.Alex Proyas' The Crow will be released on Blu-ray at the end of the summer.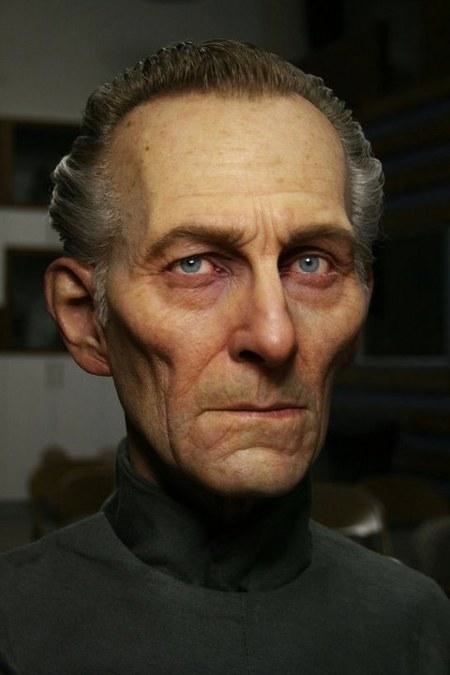 Professional sculptor Jordu Schell has created this super realistic silicon bust of Star Wars villain Grand Moff Tarkin.
Special effects artist and producer Harry Redmond Jr. died of natural causes on May 23 2011 at age 101.
Magic site Theory 11 have posted a video tutorial of the Quentin Tarantino-inspired card flourish "Tarantino".
Gwyneth Paltrow has joined Twitter.
Due to the amount of graphics and images included in Page 2, we have to split this post over a BUNCH of pages. Click the link above to continue the fourth page of Page 2.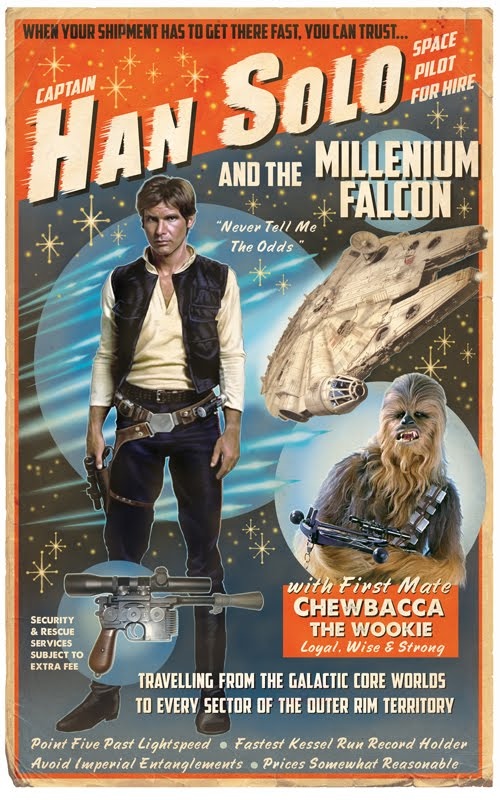 Mark Rehkopf created this Han Solo for Hire poster.
Melissa Molina has a really awesome geeky article talking about the top 5 X-Men comic book story arcs that could work as an X-Men: First Class sequel.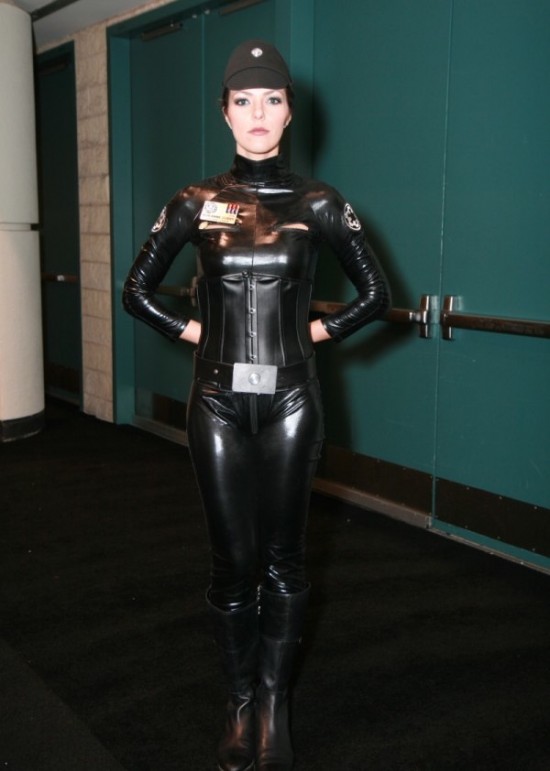 Adrianne Curry in her Star Wars Imperial Officer cosplay outfit.Pajiba lists 8 Netflix Instant Watch TV Series To Make Your Lazy Summer Downright Lethargic.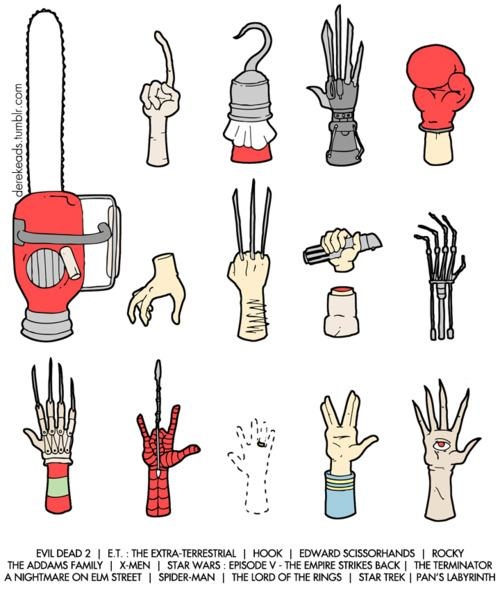 Derek Eads' "Give Me a Hand" shows famous movie hands.CBM have published a bunch of spoiler-filled storyboards from Captain America.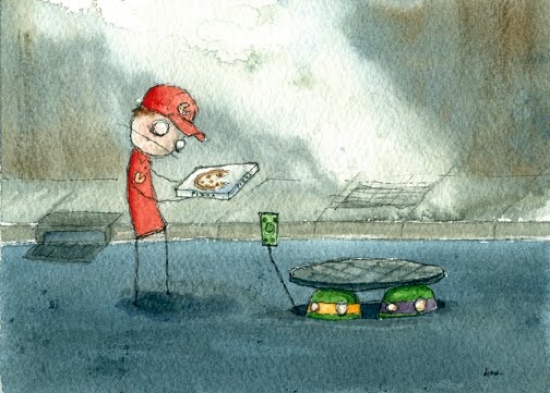 Check out Drew Falchetta's contribution to the Autumn Society's Teenage Mutant Ninja Turtles art show.
Cosplay For A Cause: Cosplayers have released a calendar for charity with 100% of the proceeds going to the Japanese Red Cross society.
A new trailer has debuted for Batman: Arkham City which reveals Catwoman as a playable character.
IO9 lists the 10 most ridiculous X-Files monsters-of-the-week.
Due to the amount of graphics and images included in Page 2, we have to split this post over a BUNCH of pages. Click the link above to continue the fifth and final page of Page 2.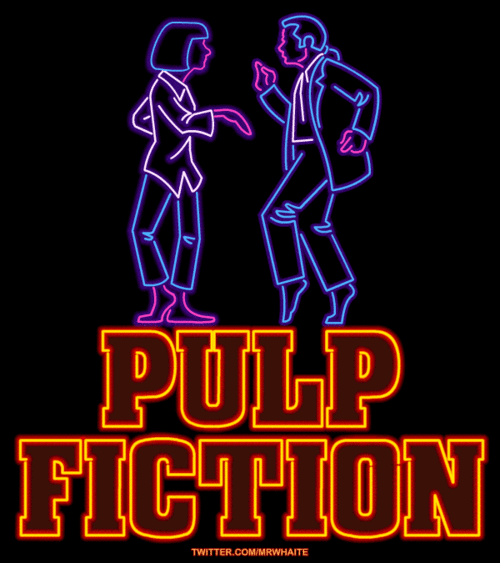 MrWhaite created an animated neon sign for Pulp Fiction.The Playlist lists 5 Music Video Directors Who Could Follow Richard Ayoade & Mike Mills To The Big Screen.MTV has released a Rebecca Black/Black Swan mash-up.Clutch lists 7 Hot Women Who Voiced Not-So-Hot Cartoons.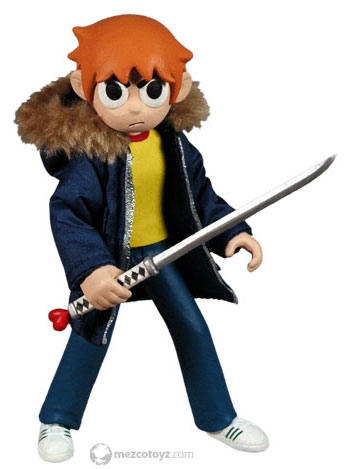 Mezco will sell this Scott Pilgrim action figure variant at the 2011 Comic Con.
MTV announced that Reese Witherspoon will be honored with the "MTV Generation Award" during the "2011 MTV Movie Awards.