'Horrible Bosses' Trailer #2 And New Clip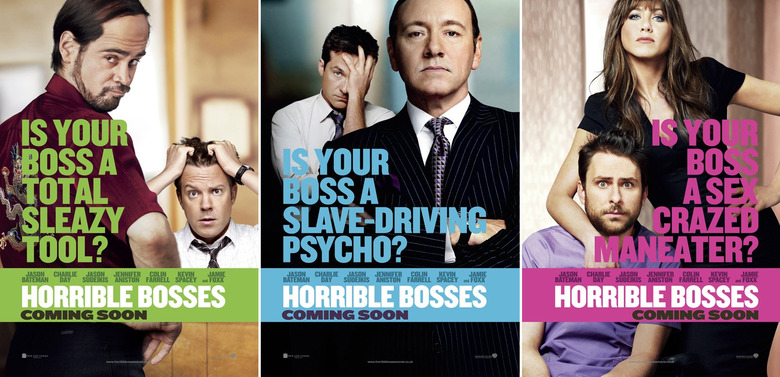 This is really more like Horrible Bosses Trailer #1.5, because it is basically the first trailer slightly rearranged, with a few more jokes added to each of the 'boss introduction' segments. So it shows the same setup where three guys (Jason Bateman, Jason Sudeikis and Charlie Day) scheme, in seemingly moronic ways, to knock off their three bosses, played by Colin Farrell, Kevin Spacey and Jennifer Aniston.
Want to see Jennifer Aniston say "I'm sorry, I'm a squirter"? Then carry on past the jump.
TheMovieBox dug up this trailer on YouTube, and it might not last in this form. (But will certainly replaced soon by a different release.) The YouTube link is better resolution than the embed below, but non-embeddable.
There's also a new clip, which comes via MTV. I haven't watched this one yet, because I'd prefer to see most of the film all at once. But for the curious, go ahead:
For Nick, Kurt and Dale, the only thing that would make the daily grind more tolerable would be to grind their intolerable bosses into dust. Quitting is not an option, so, with the benefit of a few-too-many drinks and some dubious advice from a hustling ex-con, the three friends devise a convoluted and seemingly foolproof plan to rid themselves of their respective employers...permanently. There's only one problem: even the best laid plans are only as foolproof as the brains behind them.