Casting Bits: Johnny Knoxville And More Join 'Fun Size,' Allison Janney Joins 'Liberal Arts', Seth Green And Michelle Trachtenberg Join 'Sexy Evil Genius'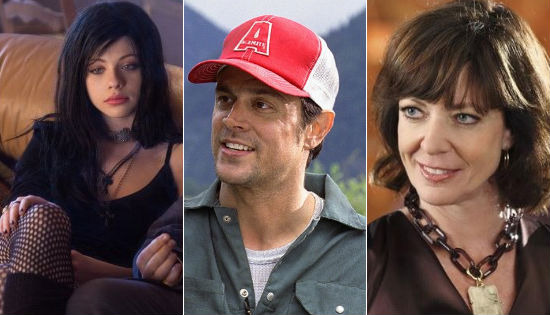 Three radically different comedies are filling up with a bevy of well-known actors. Johnny Knoxville, Josh Pence and many more have joined the cast of Fun Size, a kid comedy described as a Halloween-set blend of Superbad and Adventures in Babysitting. Allison Janney has been cast by Josh Radnor for Liberal Arts, which the How I Met Your Mother star will star in, write and direct. Also Seth Green and Michelle Trachtenberg will appear along Katee Sackhoff in the dark comedy Sexy Evil Genius. Read more about all of these projects after the jump.
In the most awkward pairing of site and scoop ever, Bloody Disgusting broke the news of the tween comedy called Fun Size which will feature Nickelodeon star Victoria Justice as a babysitter who takes a young kid to a party on Halloween and loses them. It'll mark the feature debut of Josh Schwartz, the creator of The OC and Chuck. Among the actors who are in the film, probably as wild characters encountered over the course of the evening are Johnny Knoxville, Josh Pence (The Social Network) and the following: Thomas Mann, Jane Levy, Thomas Middleditch, Thomas McDonell, Osric Chau, Jackson Nicoll, Ana Gasteyer, Holmes Osborne, James Pumphrey, Willam Belli and Peter Navy Tuiasosopo.
The Hollywood Reporter found out about Janney joining Liberal Arts, which is Josh Radnor's (How I Met Your Mother) follow-up to the criminally underrated happythankyoumoreplease. In the film, Radnor is a 35-year-old who is still in school before finally realizing he has to move along with his life. Janney will play one of the teachers, Elizabeth Olsen (Martha Marcy May Marlene) is in the film as are Richard Jenkins and Elizabeth Reaser. Radnor writes and directs.
Finally, Variety exclusively revealed the news of Seth Green and Michelle Trachtenberg joining Sexy Evil Genius which will star Katee Sackhoff (Battlestar Galactica) as a possibly mad woman who figures out a way to get a bunch of her old friends, lovers and more into a bar at the same time to unfold a devious plot. Think Ten Little Indians meets High Fidelity with more sex and romance. Billy Baldwin and Harold Perrineau Jr. are also in the film which is directed by Shawn Piller and written by Scott Lew.