'General Orders No. 9' Trailer: A Documentary Aimed Squarely At Terrence Malick Fans?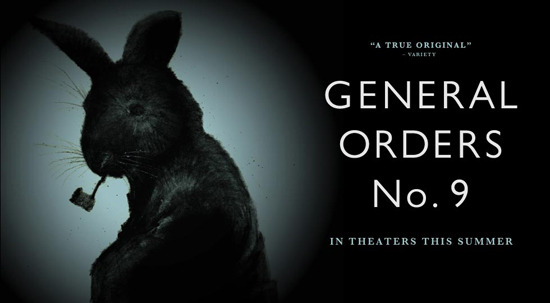 The teaser image for the documentary General Orders No. 9 drew me in. That pipe-smoking rabbit, looking like a representation of some new staging of Watership Down, is very evocative, even if I didn't know immediately exactly what it was meant to be.
Watching the trailer, Terrence Malick's name came immediately to mind, even before the trailer offered up a pullquote that reinforces the similarity. This is a film about the changing landscape of the American South –specifically as seen in Georgia — and it seems to be something a bit like Koyaanisqatsi passed through filters held by Malick and Emmanuel Lubezki. I can't tell if the movie will be quite as mesmerizing, but I like this trailer quite a lot. Watch it after the break.
This trailer gives me some of the same vibe as I get listening to 'Dead Flag Blues' by Godspeed You! Black Emperor. (Part two of that song here.) It seems to capture something by circling around it rather than meeting the idea head on. It's an approach I appreciate, while others find it way too obscure, pretentious or arty. Judge for yourself:
Head to Apple for the very pretty HD trailer.
Awarded for its visionary cinematography, GENERAL ORDERS No. 9 breaks from the constraints of the documentary form as it contemplates the signs of loss and change in the American South. The stunning culmination of over eleven years' work from first time writer-director Bob Persons, GENERAL ORDERS No. 9 marries experimental filmmaking with an accessible, naturalist sensibility to tell the epic story of the clash between nature and man's progress, and reaches a bittersweet reconciliation all its own. Told entirely with images, poetry, and music, GENERAL ORDERS No. 9 is unlike any film you have ever seen. A story told in maps, dreams, and prayers, it is one last trip down the rabbit hole before it's paved over.