'The Wholly Family' Teaser Trailer: Terry Gilliam Sells Fellini-Flavored Pasta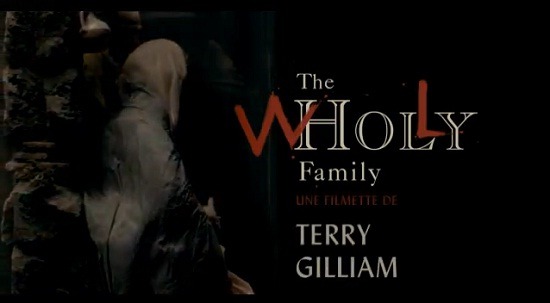 One of Terry Gilliam's many recent non-feature projects is The Wholly Family, a short film funded by Italian pasta company Garofalo. The company commissioned a set of short films set in or otherwise concerning Naples, and Gilliam is one of the people tapped to take advantage of the option. We haven't seen anything from the film since some stills hit in February, but a teaser trailer hit the web a week or two back, and you can see it below.
This is weird-looking stuff. When some of the characters trundle out plates of food the commercial aspect becomes pretty dominant, but I wonder how apparent that will really be in the full short. There is some deliriously weird-looking footage here. Some shots look like part of a fever dream that captures the spirit of early scenes of Time Bandits. I have no idea what we're in for here, but it has to be better than The Legend of Hallowdega.
The other recent effort from the director is his first opera. The Damnation of Faust played in London, and The Playlist has a glowing review, calling it "consistently thrilling stuff, far fresher and more exciting than anything the director's done in years... immediately recognizable as a Gilliam piece... but it feels like brand new territory, never descending into the seeming self-parody that's marked much of his recent work."
Here is a small gallery of images from the opera, which essentially combines the story of Goethe's Faust as reworked by Hector Berlioz, and uses it as a metaphor for the history of Germany in the 20th century. The stage design looks like a true spectacle that is both an appropriate representation of some well-known German iconography and a parody of same.
And finally, Terry Gilliam is providing a voice for the animated short The Monster of Nix, a teaser for which is here.