Casting Bits: Jamie Campbell Bower In 'The Mortal Instruments;' Dania Ramirez In 'American Reunion;' Jackson Rathbone In 'Live At The Foxes Den'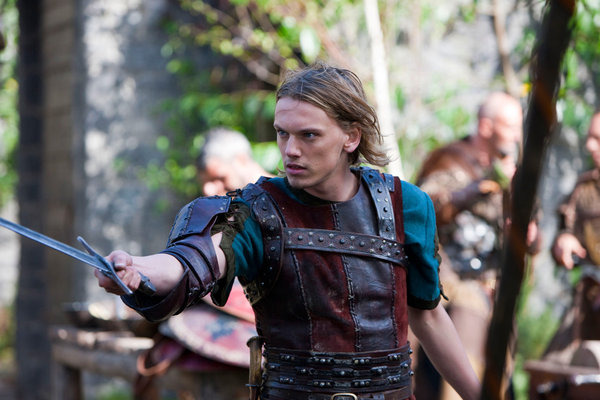 After some dithering among several pretty young blond boy actors, Screen Gems and director Scott Stewart (Priest, Legion) have chosen Jamie Campbell Bower to play Jace Wayland in the adaptation of City of Bones, Cassandra Clare's first The Mortal Instruments novel. Alex Pettyfer was once in the running but bowed out. Jaime Campbell Bower almost certainly has to be a better choice, anyway, though I haven't seen enough of his work to say that with certainty. (He had small parts in New Moon and Sweeney Todd, played Arthur in Camelot, and will be in Roland Emmerich's upcoming Anonymous.)
The book starts off like so: When Clary Fray witnesses three tattoo-covered teenagers murder another teen, she is unable to prove the crime because the victim disappears right in front of her eyes, and no one else can see the killers. She learns that the teens are Shadowhunters (humans who hunt and kill demons), and Clary, a mundie (i.e., mundane human), should not be able to see them either. Shortly after this discovery, her mother, Jocelyn, an erstwhile Shadowhunter, is kidnapped.
Lily Collins, playing Clary, might be the determining factor with respect to the shoot schedule, as she is also set to be the lead in Tarsem's Snow White film. That one has to shoot very soon, since it is set for a March 2012 release. So The Mortal Instruments will likely shoot later this summer or in early fall. [Deadline]
After the break, one more for American Reunion, and another Twilighter, Jackson Rathbone, is cast in a legal drama.
It looks like American Reunion will be the new Hunger Games, with respect to the non-stop deluge of casting updates. We know that the entire American Pie cast is returning, and that Katrina Bowden has a key role. Now Dania Ramirez (from Heroes) will be the love interest for Eddie Kaye Thomas. In more detail, she'll be "Trisha, the ugly duckling nobody noticed in high school who has since grown into a beautiful swan, much to Finch's delight."
Jon Hurwitz and Hayden Schlossberg wrote and are directing. Jason Biggs, Seann William Scott, Alyson Hannigan, Thomas Ian Nicholas, Chris Klein, Eugene Levy, Tara Reid, Jennifer Coolidge, Mena Suvari and Shannon Elizabeth make up the big returning cast. [Variety]
Finally, Jackson Rathbone from Twilight and The Last Airbender has joined Live at the Foxes Den, an indie law tale from writer-director Michael Kristoff. He plays "a miserable corporate lawyer who takes leave from his job when he stumbles into the nightlife of an old-school cocktail lounge called The Foxes Den, where he begins to sing. Ultimately, he is inspired to take up the causes of the regulars and staff by starting his own law firm to fight for the little guy."
The rest of the cast includes Jack Holmes, Janet Montgomery, Bob Gunton, Pooch Hall and Elliott Gould; the film is in production in LA now.  [THR]