'Spy Kids: All The Time In The World' Trailer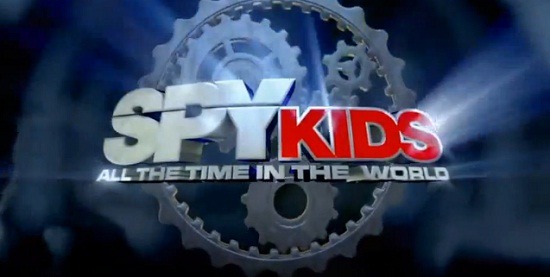 Depending on what you want out of Robert Rodriguez, this first trailer for Spy Kids: All the Time in the World may either instill dismay ("he made this instead of a 'real' movie?") or happiness ("if he wants to make this, then let someone else do Deadpool"). This looks like a Canadian promo for the film — check the Alliance logo where the Weinstein-related one should be — but I imagine it is very similar to the US trailer we're likely to see. Check it out below.
Keep in mind first off: this is a movie for kids.
Once, this seemed like a good idea. A genre filmmaker turning his skills to family films geared specifically for kids? Not a bad thing at all. The first two films in the Spy Kids series are fun and have heart. But the third is terrible, and similar RR productions like Sharkboy and Lava Girl didn't fare much better. It's great that Robert Rodriguez lets his kids get their hands dirty making some of these films, but the result is something that is very definitely not for me.
So how does this fourth Spy Kids movie look? Well, Jeremy Piven is unrecognizable as he flies around in thin CGI environments, Joel McCale and Jessica Alba look game but probably lost as the parents of the new (and very flat) Spy Kids, and returning Kids Alexa Vega and Daryl Sabara are doing what they have to do. Oh, and Ricky Gervais voices the talking robot dog. Something for the parents, really.
On the surface, Marissa Cortez Wilson (Jessica Alba) has it all...married to a famous spy hunting television reporter, a new baby and intelligent twin step kids. But in reality, trying to mother Rebecca (Rowan Blanchard) and Cecil (Mason Cook), who clearly don't want her around, is her toughest challenge yet. Also, her husband, Wilbur (Joel McHale), wouldn't know a spy if he lived with one which is exactly the case – Marissa's a retired secret agent.
Marissa's world is turned upside down when the maniacal Timekeeper (Jeremy Piven) threatens to take over the planet and she's called back into action by the head of OSS, home of the greatest spies and where the now-defunct Spy Kids division was created. With Armageddon quickly approaching, Rebecca and Cecil are thrust into action when they learn their boring stepmom was once a top agent and now the world's most competitive ten year olds are forced to put their bickering aside and rely on their wits. With a little help from a couple of very familiar Spy Kids, Carmen (Alexa Vega) and Juni Cortez (Daryl Sabara), and some mind-blowing gadgets, they just may be able to save the world and possibly bring their family together while they're at it.
Spy Kids: All the Time in the World hits on August 19.