Will Michael Mann's Next Film Be 'Agincourt' Or 'Go Like Hell'?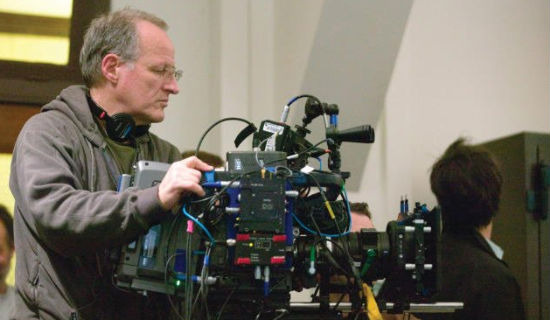 Michael Mann's list of possible new projects is extensive, but he seems to be winnowing it down to just two. Recently there was some confirmation that Michael Mann would indeed direct a film called Agincourt, based on the famous battle of the same name, as also depicted in Henry V. Independent, the company run by Luc Roeg (Nicolas Roeg's son) is developing Agincourt, with Benjamin Ross rewriting the script turned in by Michael Hirst, and an eventual shoot planned in the UK and France.
It appears that Agincourt is still the most likely next film for Michael Mann, but now he is also signed to develop a script based on the book  Go Like Hell, with an eye to possibly direct. The book follows the Ford Motor Company's efforts to reinvent itself, and the showdown with Ferrari at Le Mans in the mid '60s. Much more detail on the project is after the break.
Variety says the director is nearing a deal to develop the script, and then possibly direct based on Go Like Hell: Ford, Ferarri, and their Battle for Speed and Glory at Le Mans by A.J. Baimes.
But unless the script is whipped into shape far more quickly than is typical for Mann, this probably won't be ready to go any time soon. Jason Keller wrote the existing draft of the script, but we don't know if someone else might be brought on to rewrite as the development process moves forward. Brad Pitt was evidently a possible choice to star at one point, there is no deal in place and (as you'd expect) of course Brad Pitt was a choice to star.
Here's an extensive rundown of the book, from the official site:
By the early 1960s, the Ford Motor Company, built to bring automobile transportation to the masses, was falling behind. Young Henry Ford II, who had taken the reins of his grandfather's company with little business experience to speak of, knew he had to do something to shake things up. Baby boomers were taking to the road in droves, looking for speed not safety, style not comfort. Meanwhile, Enzo Ferrari, whose cars epitomized style, lorded it over the European racing scene. He crafted beautiful sports cars, "science fiction on wheels," but was also called "the Assassin" because so many drivers perished while racing them."Go Like Hell" tells the remarkable story of how Henry Ford II, with the help of a young visionary named Lee Iacocca and a former racing champion turned engineer, Carroll Shelby, concocted a scheme to reinvent the Ford company. They would enter the high-stakes world of European car racing, where an adventurous few threw safety and sanity to the wind. They would design, build, and race a car that could beat Ferrari at his own game at the most prestigious and brutal race in the world, something no American car had ever done."Go Like Hell" transports readers to a risk-filled, glorious time in this brilliant portrait of a rivalry between two industrialists, the cars they built, and the "pilots" who would drive them to victory, or doom.