'The Whistleblower' Trailer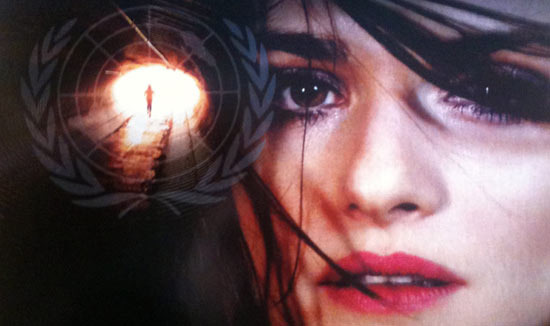 It was almost exactly a year ago that we saw the sales trailer for The Whistleblower, a thriller in which Rachel Weisz plays a Nebraska cop working as a peacekeeper in postwar Bosnia who uncovers a sex scandal. The movie played Toronto last September, and hit a few other fests afterward, but we haven't heard much about the picture since then. Samuel Goldwyn Films is distributing, and the company has now released a full US trailer. It's after the break. 
The movie boasts an impressive cast that makes it worth a look. (Vanessa Redgrave, Monica Bellucci, Benedict Cumberbatch, Luke Treadway and David Strathairn co-star) But this trailer makes The Whistleblower look like a film that hits a lot of familiar political thriller beats, without any characters that make it much different from a great many other films.
There are other trailers out there (like this one, which has the lively couplet "Something fucked-up's going on." / "Honey, this is Bosnia. These people specialize in fucked-up.") but they're not a great deal better than this one. Rachel Weisz does good work, but here she looks like she's drained of energy. But maybe her low-wattage take is the best way to play a woman who seems to be completely out of her depth. This clip shows that scene I quoted above in greater detail, and it looks a little better in full context.
And some reviews are very good, praising both the acting and direction, and emphasizing that the subject matter makes for rough viewing. I've read a few that suggest the film might be unsatisfying more because it hews close enough to the real story that inspired the film, in which there was no hugely satisfying resolution. The cast makes me want to see the film, but this trailer isn't quite selling it.
See the HD trailer at Apple.
Inspired by actual events, Kathy (Academy Award(R) winner Rachel Weisz) is an American police officer who takes a job working as a peacekeeper in post-war Bosnia. Her expectations of helping to rebuild a devastated country are dashed when she uncovers a dangerous reality of corruption, cover-up and intrigue amid a world of private contractors and multinational diplomatic doubletalk. Directed by first time filmmaker Larysa Kondracki, the film also stars Academy Award winner Vanessa Redgrave, Monica Bellucci and Academy Award nominee David Strathairn.