First Look: Merida From Pixar's 'Brave'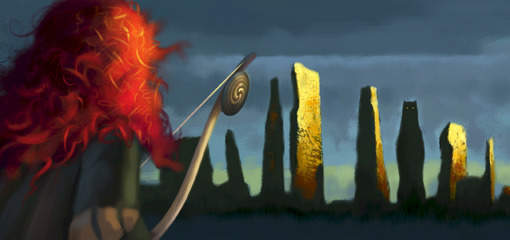 Pixar's first original fairy tale, Brave, is about a young princess named Merida (Kelly Macdonald) who defies her parents and inadvertently brings turmoil to their Kingdom. She must then do whatever is in her power to make things right. Featuring the voices of Billy Connolly, Emma Thompson, Julie Walters, Kevin McKidd, Craig Ferguson and Robbie Coltrane the Marc Andrews/Brenda Chapman-directed film is scheduled for release June 22, 2012 and a trailer should be in front of Cars 2.
We've seen some concept art from the film, such as the image above, but now we get out first glimpse of the main character in all her computer animated glory. Check it out after the break.
Thanks to Disney Pixar France and The Art of Disney Animation Fan Facebook Page (via /Film reader Seppe) for the heads up. This is another piece of concept art, followed by the actual image from the film.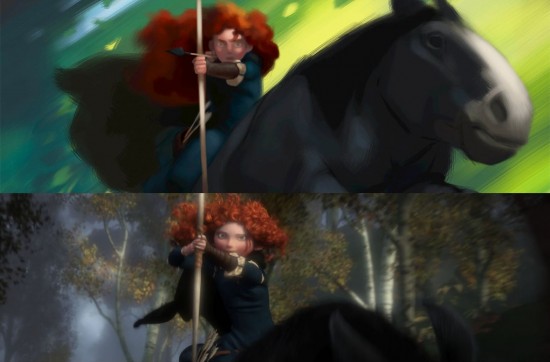 And here's a close up of that longer image: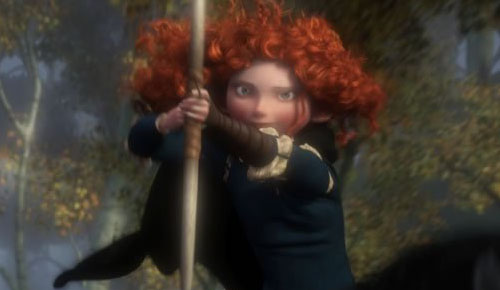 Followed by the image itself:

Looks pretty fantastic if you ask me. Here's a plot description of Brave:
The rugged and mysterious Highlands of Scotland serve as the backdrop for Brave, a new tale that joins the lands ancient lore, stories of epic battles and mystical legends passed down for generations. Directed by Mark Andrews and Brenda Chapman, and produced by Katherine Sarafian, Brave is the grand adventure of Merida (voice of Kelly Macdonald), a skilled archer who confronts tradition, destiny and the fiercest of beasts to discover the true meaning of courage.  The film also features the voices of Emma Thompson, Billy Connolly, Julie Walters, Kevin McKidd, Craig Ferguson and Robbie Coltrane. Brave, full of heart, memorable characters and Pixar's signature humor, takes aim at theaters on June 22, 2012, and will be presented in Disney Digital 3D in select theaters.