'50/50' Trailer And First Official Images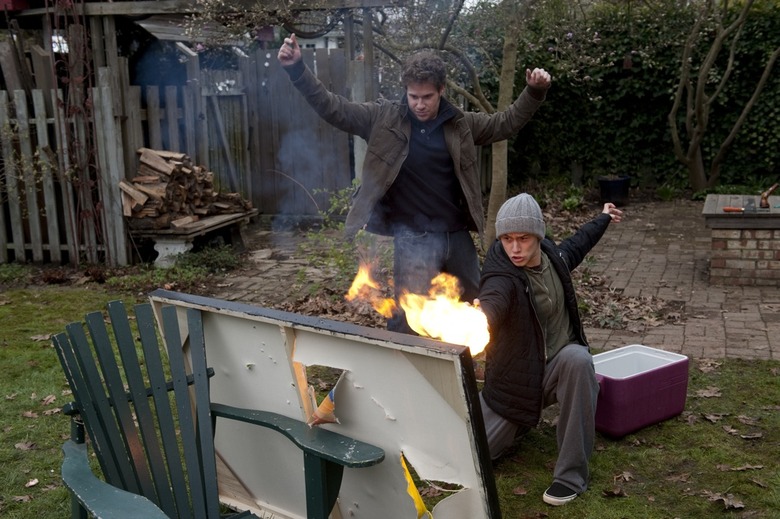 Anyone with reservations about whether or not they'll enjoy a cancer comedy can check those feelings right now. Summit has just released the first trailer for the fantastic new film 50/50, the true story of a young man (Joseph Gordon-Levitt) who is diagnosed with cancer at 27 and given a 50/50 chance of survival. The studio is obviously aware that "cancer" and "comedy" generally don't mix so they've been screening the film early and I'm happy to say that 50/50 (formerly titled I'm With Cancer) is hilarious and poignant. Director Jonathan Levine (The Wackness) is able to balance the serious with the funny in an incredibly accessible and entertaining way. It's one of the best films I've seen so far this year.
Written by Will Reiser, the person the movie is about, 50/50 also stars Seth Rogen, Anna Kendrick, Anjelica Huston and Bryce Dallas Howard. It's scheduled for release September 30. Check out the trailer after the jump.
Thanks to Apple for the trailer. Head there to watch it in HD and with an explanatory introduction, or just watch the embed below.
Joseph Gordon-Levitt is Adam, a healthy young man with a nice live in girlfriend (Bryce Dallas Howard) who one day, on a routine check up, finds out he has a severe type of cancer. The news is a shock to his best friend (Seth Rogen), mother (Anjelica Huston) and of course, his girlfriend. He begins to go through chemotherapy, see a psychologist (Anna Kendrick) but Adam finds it impossible to process that this, could, be the end of his life.
Recently we ran an fan review of this film that said "If it wasn't so funny, and occasionally crude, I'd call this an Oscar contender" and I agree with that sentiment. The film is funny, it is crude, but it's also incredibly touching without being too depressing or too light. Whether or not the film will be an Oscar contender is up for debate but films that share similarities to it (Philadelphia, Terms of Endearment, etc.) have certainly done well for themselves in years past. The biggest obstacle won't be the critics though. It'll be audiences confused by the title or not exactly excited to watch a man battle death. Even if he does use it to get laid.
Here are a few images from the film thanks to Apple.
What did you think of the trailer? Do you get the vibe I'm talking about from it?
Here's the official plot description:
Inspired by personal experiences, 50/50 is an original story about friendship, love, survival and finding humor in unlikely places. Joseph Gordon-Levitt and Seth Rogen star as best friends whose lives are changed by a cancer diagnosis. Rogen also serves as producer, along with Evan Goldberg and Ben Karlin. Jonathan Levine directs from a script by Will Reiser. "We worked with Will on Da Ali G show, and it was shortly after that we learned he was sick." Rogen recalls. "As shocking, sad, confusing and generally screwed up as it was; we couldn't ignore that because we were so ill-equipped to deal with the situation, funny things kept happening. Will got better, and when he did, we thought the best way to pull something good out of the situation was to get him to write a screenplay. Ideally we wanted to make a film that would be as funny, sad, and hopefully as honest as the experience we went through. As soon as the script was completed, it quickly became a passion project for all of us. It helped us come to terms with Will's struggle as well as our own experiences." 50/50 is the story of a guy's transformative and, yes, sometimes funny journey to health. 50/50 draws its emotional core from Will Reiser's own experience with cancer and reminds us that friendship and love, no matter what bizarre turns they take, are the greatest healers.