Another Blow To 'Akira': Albert Hughes Out As Director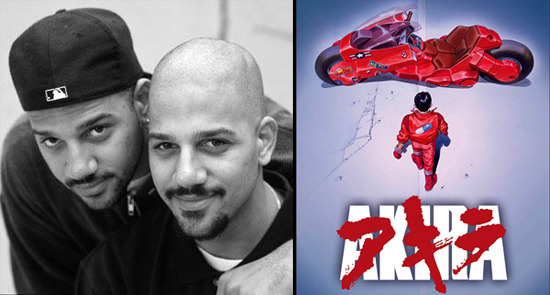 With innumerable mountains to climb on the way to remaking Akira, such as the dark storyline, escalating budget and lack of a star, the one constant the film had in recent months was a director. Now the remake of the classic Katsuhiro Otomo anime/manga is without a captain as director Albert Hughes (seen above right with his brother Allen) has reportedly left the film. This comes mere days after news broke that Keanu Reeves was the latest to pass on the lead role of Kaneda and that Warner Bros. had shut down a department working on pre-production. We ask again, what does this mean for Akira? Find out after the jump.
In the Deadline story, they say that Hughes left on amicable terms, unable to come to a creative understanding with the studio and still hopes to make his next movie there. Without Hughes, though, Deadline believes Warner Bros. will work quickly to replace him and go back to the film's original strategy.
Originally the studio was hoping to cast the film's two leads – Kaneda and Tetsuo – out of a slew of popular young actors including Robert Pattinson, Andrew Garfield or James McAvoy for Tetsuo and Garrett Hedlund, Michael Fassbender, Chris Pine, Justin Timberlake or Joaquin Phoenix for Kaneda. However, once they realized the film was going to be a huge project (did they not see the original movie?) they had a change of heart and decide to court a bigger name. That's why you once again started hearing names like Brad Pitt, James Franco, Keanu Reeves etc. (Way back in the day, Leonardo DiCaprio was interested in the property.)
But with the hiring of screenwriter Steve Kloves to reign in the film in the script stage, Warner Bros. now hopes to go back to those younger actors for a more economical retelling of the story. At least that's what Deadline and Warner Bros. are saying. Here's what the studio said about the movie last week:
Production on Akira has not halted or been shut down, as the film has not yet been greenlit and is still very much in the development stage. The exploratory process is crucial to a project of this magnitude, and we will continue to sculpt our approach to making the best possible film.
Do you prefer the bigger, star-based remake of Akira or the smaller, character-based version? And with Hughes now out, who is at the top of your attainable dream list for the film? I'd love to see someone like Edgar Wright or Joe Cornish tackle it. Or maybe it's just best to let it die. The original still holds up beautifully.