Cult Toy Line Uglydoll Could Get Animated Feature Film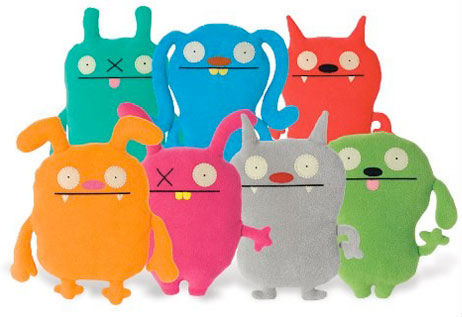 If you've been to a small, independent toy store in the past decade or so, you probably recognize Uglydolls. Created by husband and wife team David Horvath and Sun-Min Kim, the expertly crafted, yet incredibly simple plush dolls are extremely popular because of their unique design and individual character backstories. They're both collectible and accessible to all ages. And while Horvath and Kim have kept the property rights relatively limited – only extending into other retail venues like games, toys, apparel, etc – they've now sold the rights to have their creations made into a feature film.
Illumination Entertainment, the company behind Despicable Me and Hop, have nabbed the rights to Uglydoll with an eye on making it a full-length, animated movie. Larry Stuckey (Little Fockers) will write the script. Read more after the jump.
Deadline broke the news of the deal. Here's what the head of Illumination, Chris Meledandri, told them about why he picked up the rights:
The personality and level of wit reminded me of the illustrated work I saw from Matt Groening before he did The Simpsons. The characters have a cult following, and they've been very restrictive in where and how they've sold them. It has been a small cottage industry, but it seems just right for us in terms of the potential for a growth curve. Most importantly, the strength cuts to the heart of our strategy, which is, to start from the perspective of characters we feel have unique appeal to audiences, regardless of age.
Several years ago, I covered New York Toy Fair when Uglydoll had its coming out party. They had full-size people walking around in costume, a booth full of merchandise and they immediately struck me for being unique, universal and marketable. In my resulting article (which isn't online, unfortunately) I said they were the stand out toy of the event. That prediction has continued to be correct but I never thought they'd be made into a movie.
Have you seen these dolls around before? Do you think they'll make for a good movie? For more information on Uglydoll, head to their official site.