Ridley And Tony Scott To Produce TV Mini-Series Called 'Pyrates'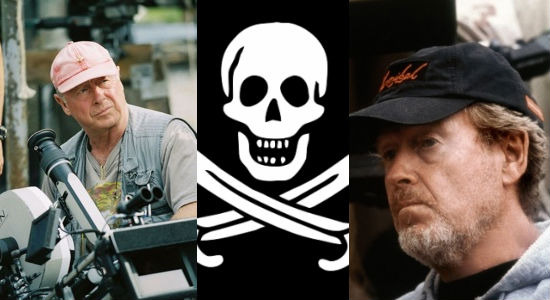 Whether it be Johnny Depp, Matthew Modine or Walter Matthau, we've become accustomed to seeing pirates on the big screen. However, hot off the financial success of Pirates of the Caribbean: On Stranger Tides, it seems as if those peg-legged, eye-patched, parrot-shouldered scoundrels could be soon making it to the small screen too. Fox is in negotiations for the rights to a mini-series tentatively called Pyrates, created by Barry Schindel (Law and Order, Numbers) with 24 director Stephen Hopkins attached to do an episode. The show is conceived as a 10-13 episode mini-series with Ridley and Tony Scott's Scott Free Productions set to produce. Read about the plot, when it could air and more after the break.
Deadline broke the news of the impending deal and described the show as follows:
A gritty portrayal of the men and women who pulled off the largest heist in pirate history — the capture of the Spanish silver fleet in 1628 — sparking the golden age of piracy, a time when there was greater honor amongst thieves than those who hunted them.
The fact that – despite being so villainous – pirates lived by a very strict code of ethics is certainly one of the most interesting things about them and exploring the origins of that dogma juxtaposed with "the largest heist in pirate history" sounds like a home run, especially if the show is restricted to one, limited run.
If all goes according to plan, Fox hopes to air the show during the Summer of 2012.
This deal hasn't been confirmed yet but, according to Deadline, it seems likely. Maybe if Pyrates is a success, more networks will take chances on huge, epic mini-series type events. The practice was pretty prevalent in the '80s and '90s with shows like Roots, The Thorn Birds, Lonesome Dove and The Stand. In recent years though, networks seem to be more about trying to find a property with staying power rather than just telling a story. They're more likely to air two hours of a show in the mid-summer and cancel it than commit to airing a few more episodes and then being done with it. HBO, on the other hand, still loves doing a mini-series (Mildred Pierce, The Pacific, etc.).
Do you think a project like this can change that?