'World War Z' To Shoot In June; 'R.I.P.D' To Shoot In September, Adds Jeff Bridges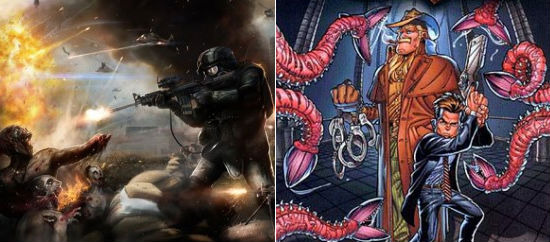 Total Recall isn't the only big time genre movie that's locking down its cast and getting read to call "Action." Reports are coming in that World War Z, the long gestating zombie apocalypse movie, based on the Max Brooks best-seller, directed by Marc Forster and starring Brad Pitt, will start shooting in June. Also R.I.P.D., Red director Robert Schwentke's adaptation of the Dark Horse comic about dead detectives starring Ryan Reynolds, is aiming for a September start date with Jeff Bridges now officially a member of the cast. Read more about both films after the jump.Screen Daily (via Coming Soon) broke the news about World War Z, which has been in development for what seems like ages. The book is about a UN research (Pitt) who travels the world looking for stories about how humans survived a global battle with zombies. Over the last few months, the film has had a bunch of ups and down over its budget, rating and more, but it seems like all that has been settled, casting has begun and shooting will start in Malta before moving to the United Kingdom and Hungary. The shoot will be very long too, as the article says it will last well into the Fall.
Goin from a what was simply a few minor casting notes to a production greenlight is quite the leap. Expect more news on the film in the coming days and weeks.
From the undead to...the undead, R.I.P.D. is set to start filming in Boston this September and Jeff Bridges will play the second lead of Roy Powell, a veteran of the "Rest In Peace Detectives" who are tasked with keeping the dead in line. The film stars Ryan Reynolds as a newly dead detective hellbent on solving his own murder.  The Wrap (via Collider) broke the news of the casting which had been rumored for a few weeks. Landing an Oscar winner as popular as Bridges currently is says a lot about the film's script and can only raise expectations exponentially.
Are you looking forward to one of these more than the other?