George Lucas Talks 3D 'Star Wars' And Explains Live Action TV Series Delay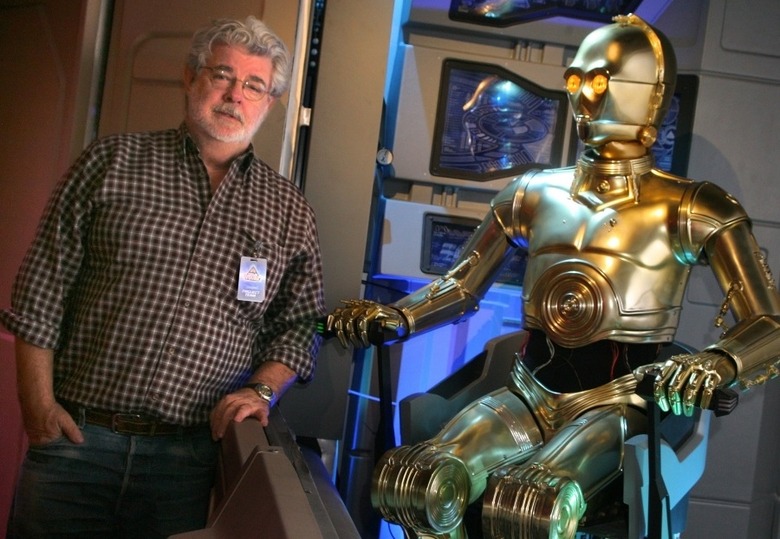 While George Lucas pushes one cinematic technology, 3D, another is holding back a highly anticipated project. The iconic filmmaker recently appeared on G4's Attack of the Show to talk about the opening of Star Tours: The Adventures Continue and discussed not only the upcoming 3D Star Wars theatrical releases, but the reason for the delay with the long-rumored live action television series.
Some sites are reporting that Lucas has "50 hours already filmed" and that's just silly. They have about 50 hours of the show conceptualized and partially written but, as we reported almost a year ago, it won't actually be made until they can figure out a way to do it at a fraction of the cost. The goal is to go to work when movies that now cost $200 million can be made for $50 million.
Lucas also did his best to explain why his 3D post-conversion process on the Star Wars films is better than all of the 3D post-conversions out in theaters right now. Will you believe what he has to say? Listen to the man himself and read more explanations after the jump.
Thanks to TheForce.net for alerting us to these interviews with Lucas from G4's Attack of the Show. The best bet to explain all this is just to watch Lucas talk about it, so here's the video. I'll recap and summarize below.
So, in regards to Star Wars 3D, which begins on February 10 when Star Wars Episode I: The Phantom Menace will get a 3D re-release, Lucas explains that they've been honing the process for years but it wasn't until recently that the technology caught up. He's been saying that, over and over again, for a long time. The films would be released when the technology is ready and it's now ready. When it comes to post-conversion itself, he says the difference between his film and others is that he has people who were on the sets and helped make the original films assisting in the post-conversion, which bring a whole new level of expertise to the process. Having seen a 3D post-converted version of the opening shot of Star Wars Episode III: Revenge of the Sith some years ago, I fully believe that.
As for the TV show, Lucas says they have 50 hours ready to go but "we're just waiting to figure out a different way of making movies, a different technology we can use." As it stands now the show "looks like the Star Wars features" but when they figure out this new technology "it will dramatically affect a lot of movies."
Lucas is talking about making movies for cheaper, simple as that. The TV show, as they have it conceived, is a series of major motion pictures and it wouldn't be "economically feasible" to shoot them for TV like that. Apparently, they're working on something – be it different cameras, editing or digital effects software, etc. – that will make it possible to shoot what would be a $200 million movie now for $50 million.
That's huge news, when and if it happens, for every person who makes movies period. However Lucas doesn't make it sound like they're right on the cusp of discovery, more like just beginning to figure it out. So don't hold your breath for that Star Wars live action series anytime soon. And there are certainly not 50 hours shot.
Of course, we reported this a year ago so it's not exactly groundbreaking, but George Lucas talking Star Wars is always interesting and polarizing.
What do you think Lucas's technological breakthrough could be? Are you sold on the 3D post-conversion?