Casting Bits: Edward James Olmos In 'Dexter;' Richard Jenkins In 'Liberal Arts;' Matthew Goode And Gabriel Byrne In 'Crooked House'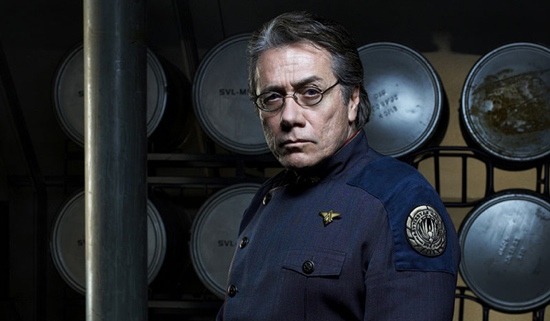 The latest addition to the cast of Dexter's sixth season is a great one: Edward James Olmos has signed on to play "a brilliant, charismatic professor of religious studies." Colin Hanks and Mos Def are other recent additions to the core cast of the show, which begins shooting on May 25 and will premiere in the fall, likely in mid to late September. Being the definition of a good sport, Mr. Olmos tweeted right after the news broke: "It's true... I'm coming for you Dexter...." [Deadline]
After the break, the ever-great Richard Jenkins joins Elizabeth Olson in an indie, and we catch up with the extensive casting of Crooked House.
Adding Richard Jenkins to the cast of a film is nearly a surefire way to get me to see it, no matter what the subject matter may be. The latest project to bring his talent to bear is Liberal Arts, the second film from Happythankyoumoreplease director Josh Radnor. As a bonus, the film already has Elizabeth Olsen in the cast — she was locked after her Sundance breakout with Martha Marcy May Marlene. (Trailer for that one here.)
Liberal Arts is about "Jesse Fisher (Radnor), a 35-year-old admissions worker at a Gotham college who visits his liberal arts alma mater in Ohio where a 19-year-old student named Zibby (Olsen) tries to romance him." Richard Jenkins will be Jesse's favorite professor who helps introduce potential couple. In addition, John Magaro will be a depressed student who befriends Jesse; Michael Weston will be another friend of the guy; and Elizabeth Reaser will be another potential love interest.
The film is set to shoot in June. [Variety]
Finally, I'm going to squeeze in a recap of a project that we missed reporting on when the news broke recently. Neil LaBute, who has gone from really interesting director for positive reasons to being exactly the opposite type of really interesting director, will adapt Agatha Christie's Crooked House. We'd heard that might happen, but now the project has a possible cast: Julie Andrews, Gemma Arterton, Matthew Goode and Gabriel Byrne are all signed.
Tim Rose Price and Julian Fellowes adapted the very classically Christie story about a murdered patriarch of a big, rich family, and the remaining family members who are thrown into suspenseful turmoil in the family estate after the killing. The detective investigating the murder has to figure out, in part, whether one particular female family member is meant to be another victim or is actually the killer. Neil LaBute told Variety.
The story has a couple of fresh sides to it that I didn't remember from Christie's work. There's a love story, which didn't feature strongly in many of her books, so that seemed very different to me and fresh. Plus it's quite morally ambiguous, which also appealed to me.
And what of other projects like The Geography of Hope and Seconds of Pleasure, which Neil LaBute has been developing? We're not sure, and it looks like Crooked House will supercede them when it shoots this summer.