New Posters: 'Colombiana' And 'Harry Potter And The Deathly Hallows Part 2'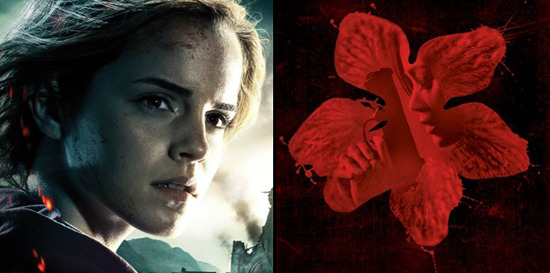 Yesterday we saw a new poster for Harry Potter and the Deathly Hallows Part 2 that featured a shellshocked-looking Harry; today we've got the complement in a new character poster for Hermione. Additionally, there is a pretty good poster for the action movie Colombiana in which Zoe Saldana plays a character who looks a bit like Quentin Tarantino's O-Ren Ishii filtered through the sensibilities of Luc Besson. You can see the trailer here, and the poster is after the break.
Here's the plot of Colombiana, which now opens on August 26. I like the design, because it departs significantly from your typical action movie poster.
After witnessing her parents being murdered by the mob, 10-year-old Cataleya sets off on a 15-year journey for revenge that takes her across the world.
And then there's a new poster for the final Harry Potter film; this one features Emma Watson as Hermione Granger. It's in the same vein as the one we posted yesterday, and we can probably expect to see Ron's tomorrow. I can't imagine that anyone who is interested in the film needs the recap, but David Yates directs and the cast is massive: Daniel Radcliffe, Rupert Grint, Emma Watson, Helena Bonham Carter, Robbie Coltrane, Warwick Davis, Tom Felton, Ralph Fiennes, Michael Gambon, Jason Isaacs, Alan Rickman, David Thewlis, Julie Walters, Bonnie Wright and Kelly Macdonald.
Harry Potter and the Deathly Hallows Part 2 opens in 3D and 3D IMAX (and some good old-fashioned 2D) on July 15.