UPDATED: Lenny Kravitz Is Katniss' Stylist Cinna In 'The Hunger Games;' Toby Jones Cast Too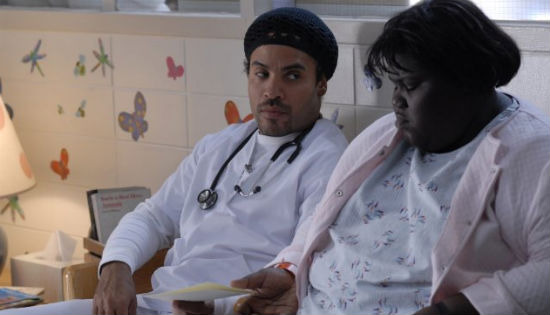 As Nikki Finke so famously coined, "Toldja!" After the rumors of musician turned actor Lenny Kravitz being up for a role in The Hunger Games began to circle, I continually said that he'd be perfect for the pivotal role of Cinna, the rebellious stylist for heroine Katniss Everdeen (Jennifer Lawrence). And, what do you know? That's the role he's just been cast in.
UPDATE: Toby Jones has also just been cast in Gary Ross' The Hunger Games. More after the jump.
Lionsgate announced the Cinna casting late Monday night on their LionsGateNews Twitter feed with the following quote from director Gary Ross:
When I saw Lenny's work in PRECIOUS I was just knocked out.  It was quiet and strong and understated and open hearted; all qualities which define this character.  I'm really looking forward to this ride.
So are we. Cinna is an incredibly important role not only in the first book, but in the subsequent books of Suzanne Collins' series. He's a virtuoso designer who helps make Katniss into a superstar due to his incredible outfit designs. Cinna also becomes a trusted confidant of Katniss' and is almost the main character's moral center. Here's how the Lionsgate press release described the role:
Cinna is Katniss Everdeen's assigned fashion stylist for the highly ceremonial lead up to The 74th Annual Hunger Games. Though he's a mild mannered first time stylist, the designs he creates, such as the "Girl On Fire" costume for the tributes' live televised debut, are show-stopping. With odds being set, wagers being placed, and wealthy benefactors able to occasionally intervene in the games, a high public profile is tantamount to a huge advantage for any contestant entering the arena. The stunning and unique designs Cinna creates for Katniss define her public identity, and in an all too real way, could also contribute to her very survival.
Kravitz has the perfect sense of style, quiet confidence and cool that Cinna requires. Another fantastic piece of casting by Ross and company. According to my list of roles that still need to be cast, we're just waiting on President Snow and we'll have most of the important ones. Like I said, though, he'll probably be the final person revealed.
What are your thoughts about Kravitz in this showy role?
UPDATE: Early Tuesday morning, Deadline broke the news that Toby Jones, who most recently appeared in Your Highness but is also know for roles in W. (as Karl Rove) Infamous (as Truman Capote) and as the voice of Dobby in the Harry Potter films, has been cast in the film. According to the article he'll be playing "playing the host/narrator of the games alongside Stanley Tucci." /Film reader Devon C reminds us the role is most likely Claudius Templesmith, a small role that mostly consists of a voice that blares out in the arena while the combatants fight.