'Salvation Boulevard' Trailer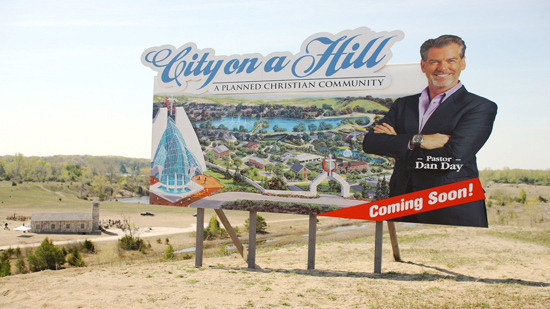 Salvation Boulevard is a film that found distribution at Sundance likely thanks to a high-power cast, because the reviews were middling and occasionally dismal. The roster for this comedy that skewers personality run amok and the power of fringe religious organizations is pretty serious: Pierce Brosnan, Ed Harris, Jim Gaffigan, Marisa Tomei and Jennifer Connelly.
Reading reviews, which largely took the film to task for being unfunny, I wasn't certain what to expect from the film. But a trailer is out in the wild now, and it makes clear that a lot of manic energy went into this movie. It also suggests that despite the wild mugging of actors who are usually more controlled (Jennifer Connelly, for example) the picture might be more noise and fury than anything else. (Which is to say, it might just be crap.) Too bad, because the cast has so much promise. Check out the trailer after the break.
George Ratliff (Joshua, Hell House) directed, and I'm afraid that the main thing I didn't like about Joshua — the cast giving a whole lot of energy that isn't really directed anywhere — is a serious factor here, too. Can we throw this one in the 'massive adaptation failure' pile? I get a real Bonfire of the Vanities, The Road to Wellville or Breakfast of Champions vibe off this trailer, but I guess every generation gets a film like that. That begs the question: why isn't Bruce Willis in this movie?
Get saved in HD at
Yahoo
.
Pastor Dan Day is a charismatic evangelical preacher who has captivated a small western American town with his charm — and the promise of a sweet real estate development. Carl is a former follower — not of Christ, but of the Grateful Dead — who has since become "found" in Dan's Evangelical community, serving as one of the preacher's great examples of spiritual and moral transformation. But Carl's new belief system is turned upside down when he witnesses a sinful act that Pastor Dan's doughy henchman aims to cover up.