Title Changes For Former 'John Carter Of Mars,' 'Now' And 'Still I Rise'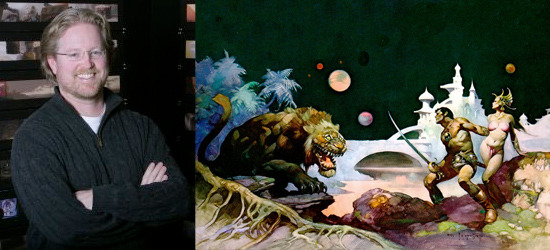 Double Academy Award-winning director of Finding Nemo and WALL-E, Andrew Stanton, is currently working on his first foray into live action, an adaptation of the classic sci-fi fantasy novel John Carter of Mars by Edgar Rice Burroughs. For some reason, though, Disney has now changed the title from that to "Gary Carter," the Hall Of Fame catcher for the 1986 New York Mets. No, I'm sorry. I meant John Carter. That's the new official title. For real.
Another title change is one that's makes a little more sense. Andrew Niccol is currently working on his Justin Timberlake, Amanda Seyfried sci-fi film which was originally called I'm.mortal, then Now, but is now called In Time.
Getting out of the sci-fi genre, a new Maggie Gyllenhaal movie directed by Daniel Barnz (Beastly) was originally called Still I Rise but is now called Steel Town. Read more about all of these after the break.
Dark Horizons (via The Film Stage) broke the news about the first two title changes. To me, changing John Carter of Mars to simply John Carter makes zero sense. Jordan of The Film Stage thinks it could be Disney's way of distancing themselves from Mars Needs Moms (something they are in the practice of doing) but I don't think that film permeated culture in a big enough way to warrant a title change to this tentpole. It's not like they're renaming the planet because of the movie. The title John Carter means nothing. It could be anything from a courtroom drama to romantic comedy to porn film. It has zero style or substance and I hope Disney realizes that John Carter Of Mars at least lets the audience know what they are in for: an epic sci-fi fantasy movie.
Changing Andrew Niccol's Now to In Time does make a little more sense. Saying "I'm going to see Now" would have resulted in many Abbott and Costello type exchanges come October and In Time does, kind of, say what the movie is about a little better than Now. It's about a society where everyone lives to be 25 years old and at that time, while their looks then stay the same, their lives are based on how much time they accumulate. It's even more complicated and cooler than that too, but you'll be reading more about it very soon.
As for Still I Rise becoming Steel Town, apparently the movie is about "two mothers who team up to help make a difference at a local school" and is shooting in Pittsburgh. So that fits. The only issue I see is that if Real Steel is a hit, this drama with Maggie Gyllenhaal and Holly Hunter could sound like a sequel.
What are your thoughts on this title changes?