Benedict Cumberbatch Joins 'The Hobbit'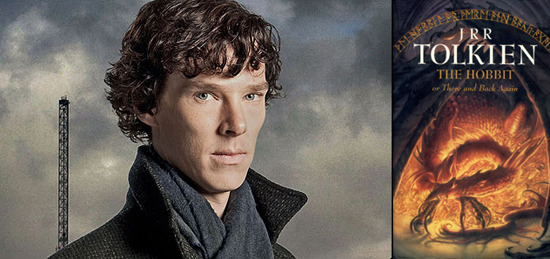 When talking recently about the fact that Stephen Fry has joined the cast of Peter Jackson's The Hobbit, we mentioned that there would probably be at least a few more casting odds and ends to report over the coming months. Now one has been let out of the bag by Martin Freeman, who plays Bilbo in the film. While at the TV BAFTA awards in London over the weekend, Martin Freeman mentioned that his Sherlock co-star Benedict Cumberbatch would appear in The Hobbit.
Problem is, this was meant to be a secret. So we've got no info on what role Benedict Cumberbatch will play. Martin Freeman said only, "I knew I was a big mouth, I didn't know how much of a big mouth, and I've ruined everything. And now I might not have a job to go back to!" Given that Benedict Cumberbatch is definitely a rising star — he has won raves for Sherlock and has roles in the upcoming films War Horse and Tinker, Tailor, Soldier, Spy — he could well be in line to play Bard the Bowman. That's one of the last big roles that doesn't yet have a name attached, and he'd be quite well suited for it.
Martin Freeman has just gone back to the UK from New Zealand to shoot the next installment of Sherlock for the BBC, in which he plays Watson to Cumberbatch's Holmes. He'll head back to the set of The Hobbit after that shoot wraps. The cast of The Hobbit also includes Richard Armitage, Ian McKellen, Andy Serkis, Hugo Weaving, Cate Blanchett, Christopher Lee, Ian Holm, Elijah Wood, and Orlando Bloom.