Page 2: Back To The Future, Toy Story, Vertigo, The Simpsons, Star Wars, Lost, A Clockwork Orange, Hunger Games, Corpse Bride, Teenage Mutant Ninja Turtles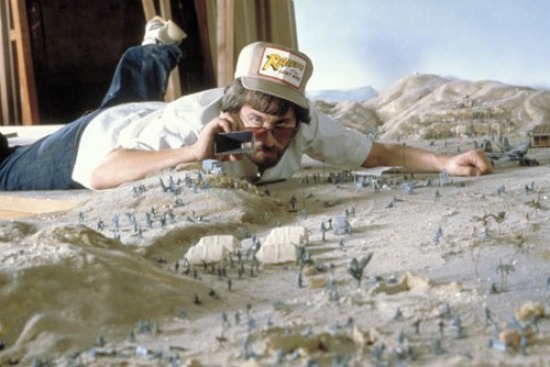 What is Page 2? Page 2 is a compilation of stories and news tidbits, which for whatever reason, didn't make the front page of /Film. After the jump we've included 36 different items, fun images, videos, casting tidbits, articles of interest and more. It's like a mystery grab bag of movie web related goodness. If you have any interesting items that we might've missed that you think should go in /Film's Page 2 – email us!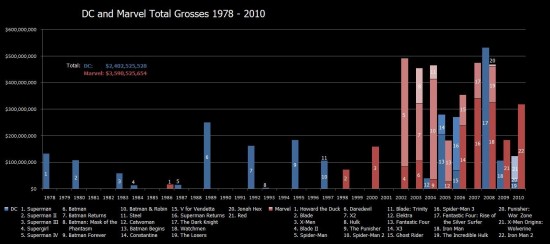 The box office grosses of DC and Marvel comic book adaptations graphed out from 1978 to 2010 (found on Reddit).
MTV lists five reasons why Geoffrey Rush should steet the future of the Pirates of the Caribbean film series.
Pop Pilgrims visits the set of Jimmy Stewart's apartment from Alfred Hitchcock's 1958 classic Vertigo.BuzzFeed lists 12 end of the world movies.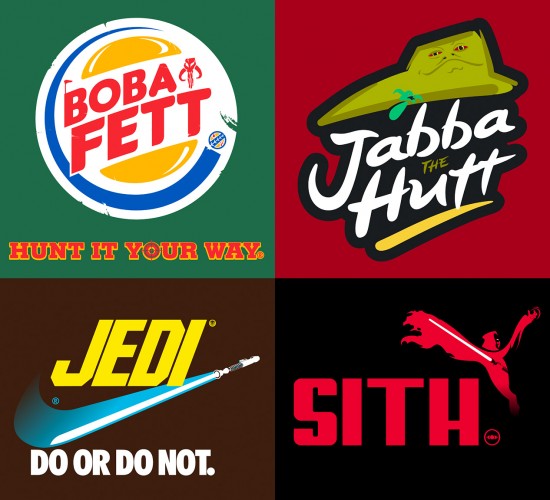 Barn Bocock of How to Carve Roast Unicon has redesigned some popular brand logos with Star Wars.
Movieline lists 13 Indispensable Box Office Facts About Woody Allen.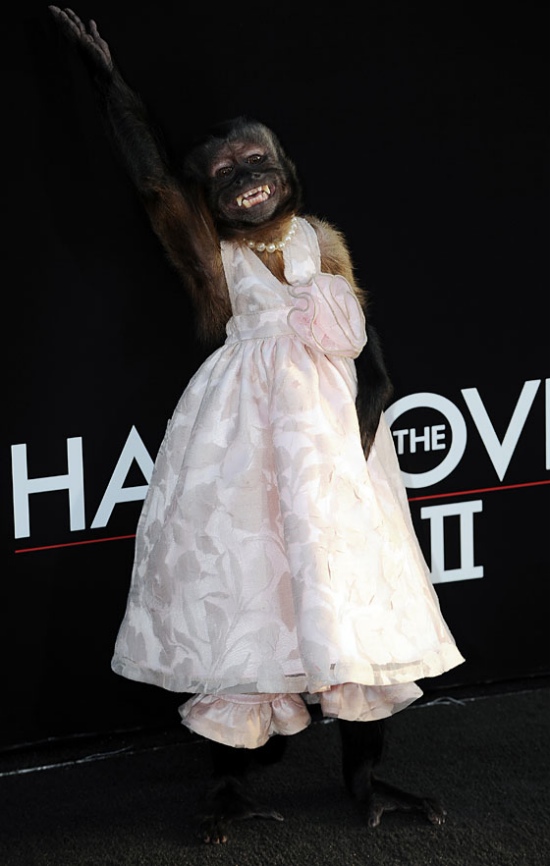 NYMag has a photo of the Hangover monkey dressed up at the premiere of The Hangover II.GammaSquad offers a brief oral history of the making of A Clockwork Orange.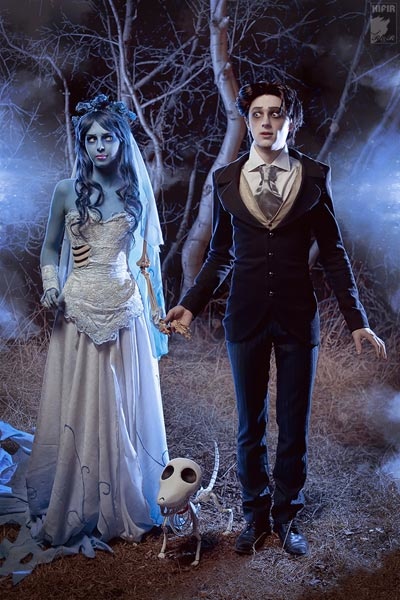 The Corpse Bride cosplay.The Hollywood Reporter predicts that The Hangover 2 will open north of $100 million at the US box office.
Due to the amount of graphics and images included in Page 2, we have to split this post over a BUNCH pages. Click the link above to continue the second page of Page 2.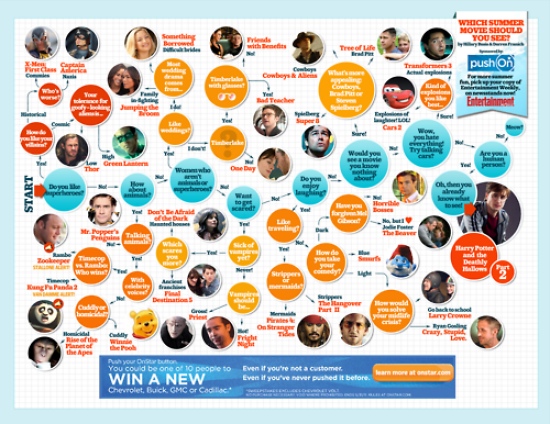 EW has put together a Summer movie decision tree which helps you decide which movies to see between May and August.The AV Club theorizes that Robert Zemeckis intentionally made Back to the Future not as a contemporary film in the 1980's but as a period piece set in 1985:
Back To The Future is both undeniably timeless (its place in pop culture is beyond question) and incredibly dated (it's very much a product of its time). Interestingly, it's a period piece made in 1985 that depicts 1985 as an era as distant-seeming as its version of 1955. Of course, when Back To The Future was first released, 1985 just looked like "now." It's entirely possible that director Robert Zemeckis and co-writer Bob Gale referenced Ronald Reagan and Eddie Van Halen and dressed Fox's Marty McFly up in a denim jacket and Calvin Klein underwear because they wanted Back To The Future to exist in the same universe as The Breakfast Club, Girls Just Want To Have Fun, and other teen films from 1985. But I'm going to give them way more credit than they probably deserve. I think Zemeckis and Gale knew all the timely accoutrements signifying "the present" in Back To The Future would inevitably look like 1985 within just a couple of years; in fact, they were banking on it. Zemeckis and Gale were trying to create an archetypical representation of 1985 just like they did for 1955, with its soda fountains, social repression, and subjugated black people. In this way, Back To The Future only gets better the further we get from the '80s. Everything that defines Marty McFly-how he walks, talks, acts, and dresses-acts as instantly recognizable shorthand for the year he comes from.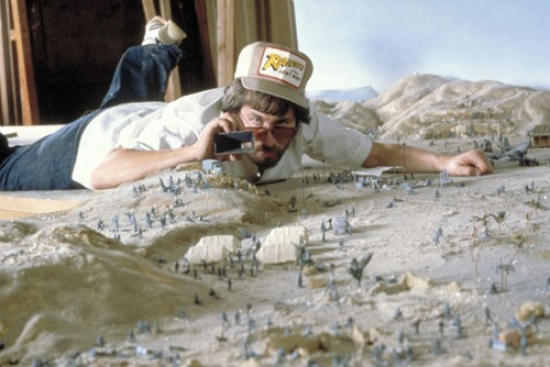 TINP has a vintage photo of Steven Spielberg planning a shot on the set of Raiders of the Lost Ark.The Centers for Disease Control released guidelines on how to prepare for a zombie apocalypse.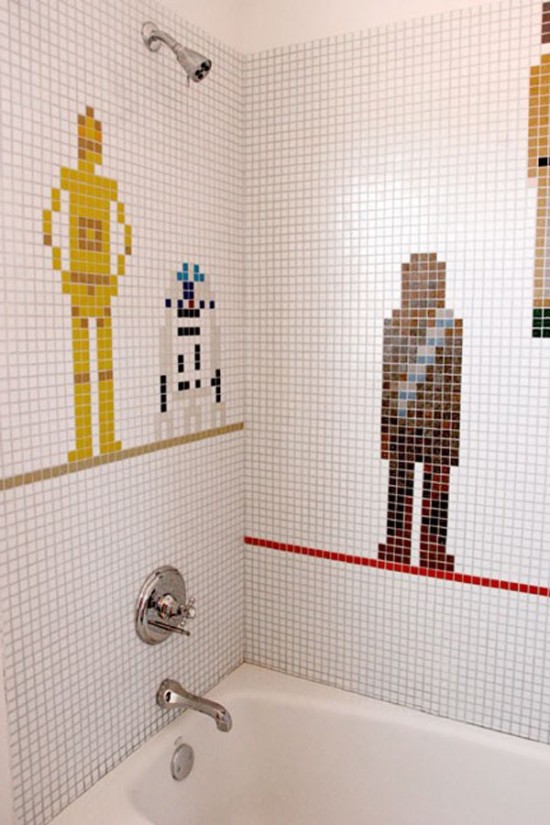 Emily Jagoda designed this Star Wars-tiled shower.
Oscilloscope Laboratories has acquired North American distribution rights to Lynne Ramsay's We Need to Talk About Kevin, which screened in competition at the 2011 Cannes Film Festival.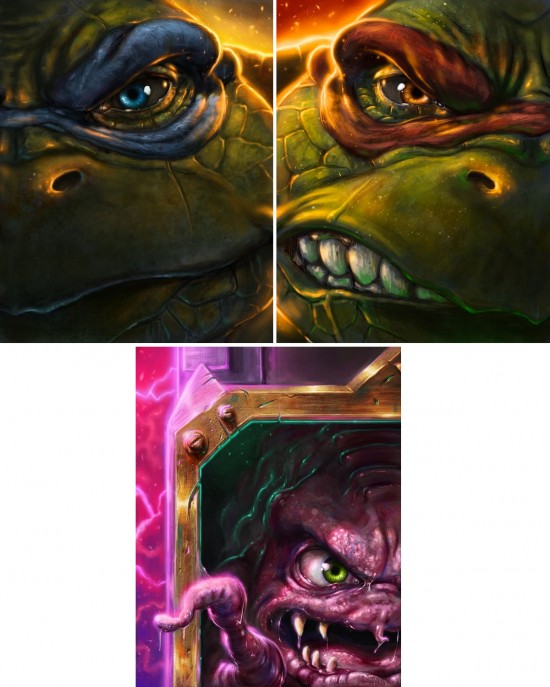 Eric Braddock posted 3 of his five pieces created for the Autumn Society's Teenage Mutant Ninja Turtles art show.
Warner Bros has acquired the screen rights to The Future of Us, a novel by Jay Asher and Carolyn Mackler.
Watch a lady performing The Simpsons theme on a musical saw.Transformers: Dark of the Moon will premiere at the opening night of the Moscow International Film Festival on June 23rd.
Due to the amount of graphics and images included in Page 2, we have to split this post over a BUNCH pages. Click the link above to continue the third page of Page 2.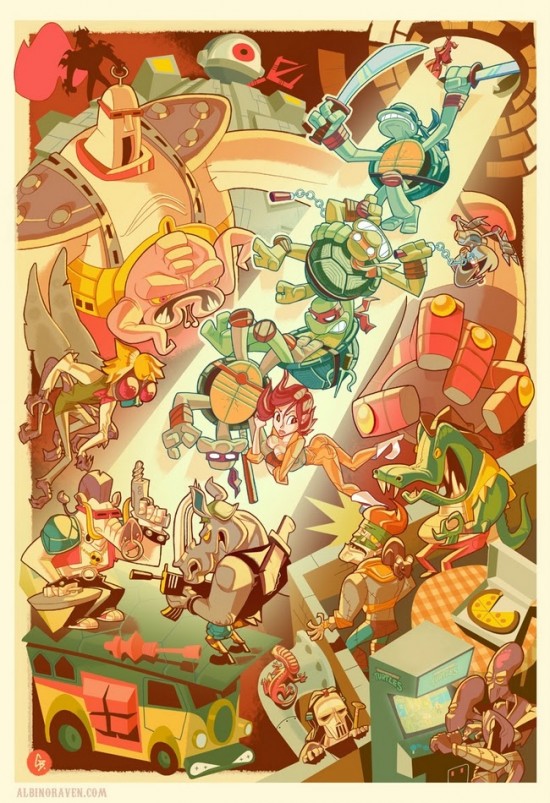 Albino Raven created this piece for the Teenage Mutant Ninja Turtles art show.Joe Hill's Twittering From The Circus of the Dead has been picked up by Mandalay with Todd Lincoln set to direct. The story is described as "written entirely as tweets from a teenage girl, follows an American family on a cross country road trip that goes horribly wrong."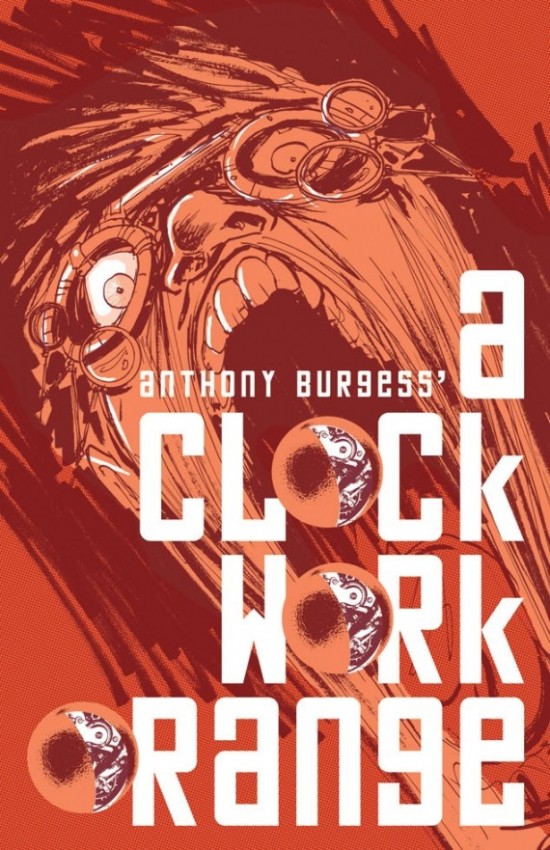 BleedingCool has published pages from comic artist Kevin Colden's pitch for A Clockwork Orange graphic novel.
Academy Award winner Alan Menken will score Lidsville for DreamWorks.
The series finale of Lost happened a year ago. Someone created an epic tribute video in rememberance.
PMPD lists the Top 5 Movies To Watch While Fucked Up.
[No photo]
This new set photo gives us a peek at District 12, the hometown of Katniss Everdeen (Jennifer Lawrence) in Gary Ross' adaptation of The Hunger Games.
X-MenL First Class has a running time of 140 minutes.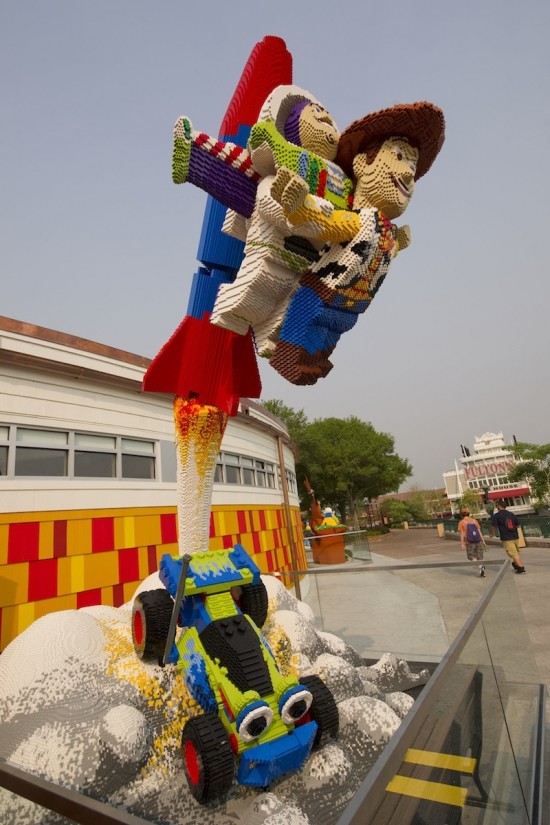 Check out this LEGO Toy Story sculpture outside the Lego Imagination Center shop at the Downtown Disney Marketplace.
Marvel Studios head Kevin Feige talks about The Avengers:
"We wanted to do a tease of an image – Let people know that the movie has started filming, and it's real. We thought it would be fun to have the cast chairs — that's the big selling point of the movie, that these people are together on the set" ... "I did get to New Mexico on the 1st day of shooting. Right off the bat, it involved a couple of characters who'd been in other movies meeting for the first time" he recalls. "It was a little surreal, realizing it was actually happening"  ... "Iron Man and Thor have defeated threats, and in a couple of months Captain America will hold his own – So what in the world could they go up against that requires all of them to get together for a challenge that they may or may not succeed against?" ... "Everyone has more than their own fair share of screen time, interaction and arcs in this film – we didn't want anyone to get a short shrift – it's a big story and big movie. Everyone has room to have their own stories, but the primary one is their interaction together. That's where the fun really is!"
Due to the amount of graphics and images included in Page 2, we have to split this post over a BUNCH pages. Click the link above to continue the fourth and final page of Page 2.
Andy Samberg and Rick Ross reenact the Jaws 2 poster on the cover of Complex Magazine.Here is the official plot synopsis for Nicolas Winding Refn's Bangkok-set Only God Forgives:
Julian is on the run from the British police. He runs a Thai Boxing club in Bangkok which is a front for a drugs smuggling operation. He is well respected within the criminal underworld, but deep in his heart he feels that his life is lacking something. He meets a retired cop, The Angel of Vengeance, and finds out that he has to confront his mother.
Watch this co-branded X-Men: First Class insurance ad starring Beast and J.K. Simmons.
MiceChat has a good list of fun easter eggs on the new Star Tours ride.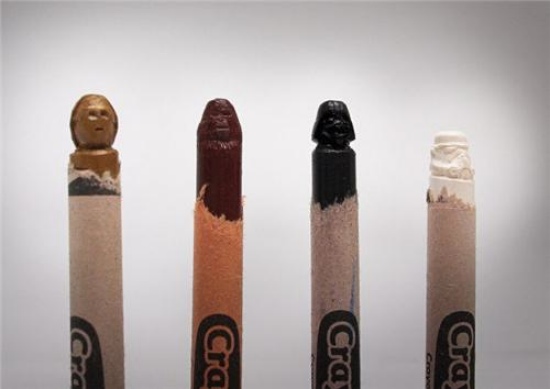 Steve Thompson has carved Star Wars character sculptures out of some standard Crayola crayons.
Showtime has canceled the United States of Tara.