Rumor: Could Martin Scorsese And Robert De Niro Make 'The Comedian'?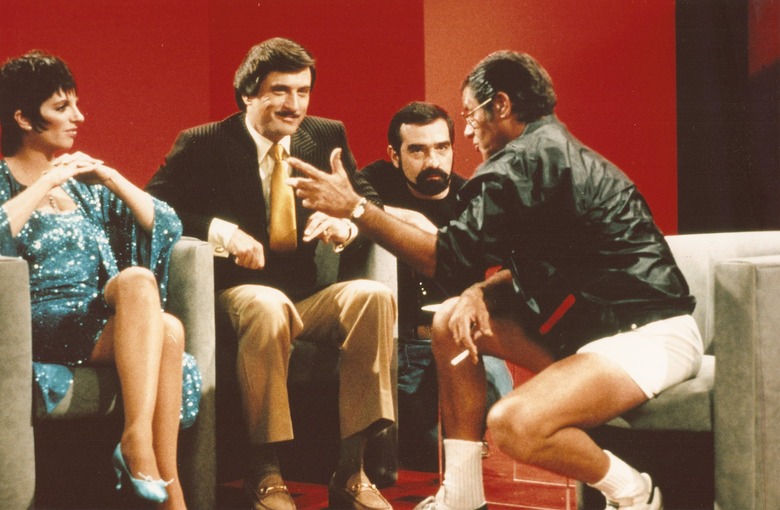 There are those who are excited at the thought of Robert De Niro and Martin Scorsese reuniting for a new film, no matter what it is. For months the object of anticipation has been The Irishman, which might light the fire of any fan of the pair's crime films, as that long-in-development project would team the two men (with Joe Pesci, too) in a true crime tale. But the truly discriminating fan of Scorsese/De Niro team-ups would really perk up at the thought of a film that might capture the vibe of The King of Comedy. That's the 1983 movie with Robert De Niro as an aspiring comedian possessed of, shall we say, delusional ambition. It is one of Martin Scorsese's best, and paradoxically a movie that seems perpetually on the fringes of popular conversation about his career.
That brings us, in a roundabout way, to The Comedian. This is a new project that may happen (or might also go nowhere), but which has become a conversation piece based on the rumored possibility that it might become a follow-up of sorts to The King of Comedy.
Roger Friedman has heard that producer Art Linson has written The Comedian, about " an insult comic, described sort of like Don Rickles meets Joan Rivers." Comedian Jeffrey Ross wrote some of the stand-up in the script, and Robert De Niro reportedly loves the result. The central character is said to be very different from Rupert Pupkin, the character at the center of The King of Comedy, but the similarity is certainly there in the basic idea behind the matieral.
The point where this gets interesting, but also completely unsubstantiated, is that Art Linson wants to convince Martin Scorsese to make the film. Or, rather, the notion that he wants Scorsese isn't difficult to confirm. But stories like this have a tendency to go quickly from rumor that talks about a desire to bring someone onto a project to 'confirmed' status with headlines like Scorsese and De Niro Reuniting for The Comedian!
So take a step back. The story is based on a whole lot of supposition. That the script exists is fact, and we can accept that it is in the hands of Robert De Niro. That the actor likes it is something we have to accept on faith. And then we really get into bat country, because the notion that Martin Scorsese might even think about directing it is supported by exactly nothing at this point. It is an interesting idea — I'm all for anything that continues to push Robert De Niro back towards respectable work — but until we get something more than rumor don't treat it as anything but.