Video Clip: Michael Bay And James Cameron Talk 3D And 'Transformers: Dark Of The Moon'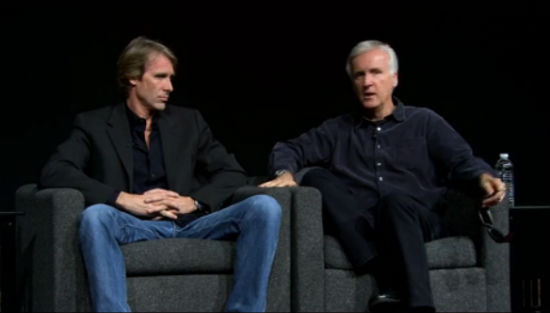 Earlier this week, Peter attended an exclusive discussion called "3D: A Transforming Visual Art – A Conversation With Michael Bay and James Cameron." The point of the event was to discuss the use of 3D in Transformers: Dark of the Moon and how 3D in general has evolved over the last few years including, of course, the application in Avatar.
However, according to Peter's write up, the interview wasn't strictly a love letter to the third dimension. It was much more realistic, open and critical of the medium. "Michael Bay was as honest as you can get, explaining how everything and anything can, and did, go wrong while shooting his movie with Cameron's 3D camera rigs....Cameron was also honest, admitting that 3D filmmaking is still in the early stages, and it will only get better."
For more info on the event, head over to Peter's write up and watch his video blog with Frosty from Collider. But if you'd like to see these two titans of filmmaking going head to head yourself, as well as some brand new footage from Transformers: Dark of the Moon, check out a clip after the jump.
Thanks to Hey You Guys for the heads up on the video.
Peter said that the full presentation (minus the 20 minutes of Transformers) should be up online next week and we'll be sure to put it up when it's available. It's always so interesting to watch super-successful guys like this talk, in detail, about their craft and their films. Here's hoping that Transformers: Dark of the Moon lives up to the pre-release hype and eclipses (pun intended) both of the previous Transformers movies.
Do you think Bay's filmmaking choices lend itself to 3D? Or is the fad quickly fading away?