'Mr. Popper's Penguins' Trailer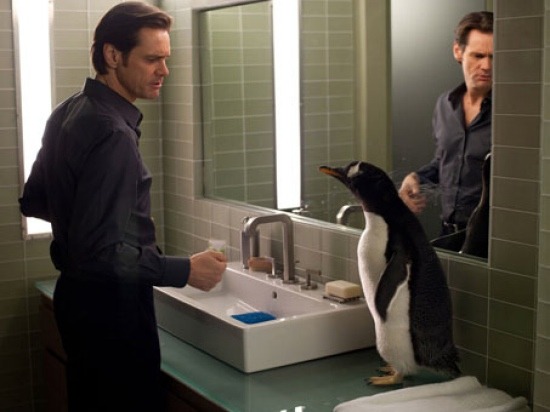 Mr. Popper's Penguins is based on a well-liked kids' book, and so it shouldn't be any surprise at all that the first trailer for the film makes it look like a film that the kids will love (maybe?) and everyone else will doze through. Jim Carrey stars as an uptight New York businessman who is given a bunch of penguins, the better to teach him about living life to the fullest, or something along those lines. Check out the trailer, which comes complete with a Carrey/penguin performance of 'Ice Ice Baby,' after the break.
Jim Carrey looks appropriately harried here; Carla Gugino does some Olympic-level frowning as his disapproving wife, and Clark Gregg, as a zookeeper who wants the penguins, looks more or less like S.H.I.E.L.D. agent Coulson in a different uniform. If you're not into the film but get stuck watching it anyway, just think of it as a 'Secret Adventures of S.H.I.E.L.D.' story. (I know: penguins are more a DC Comics sorta thing.)
One thing's for sure: this is a hell of a lot different than the version of the film I imagined Noah Baumbach and Ben Stiller making when they were loosely attached to the project a last year.
Plot Synopsis:
The life of a businessman begins to change after he inherits six penguins, and as he transforms his apartment into a winter wonderland, his professional side starts to unravel.
Mr. Popper's Penguins is set to hit theaters on June 17th 2011.