Four Awesome New Posters For 'Horrible Bosses'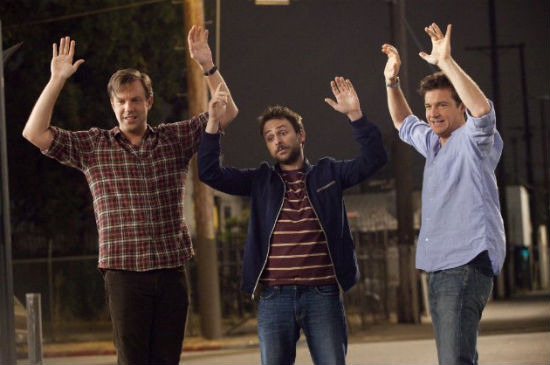 The summer of 2011 is looking pretty solid when it comes to comedies. Bridesmaids is already something of a hit, we know The Hangover Part II is going to be a monster and with the recent releases of trailers for films like 30 Minutes Or Less, Friends With Benefits, Crazy Stupid Love, Bad Teacher, The Change Up and Horrible Bosses, maybe this summer will be remembered less for its loud explosions and leotards and more for its laughs.
Out of all of those films, though, arguably the one with the most pre-release buzz is Horrible Bosses. The trailer was an almost universal hit and people who've seen test screenings of the film say it lives up to the hype. Now, with the release of these eye-catching and clever posters, even more people are going to start getting excited about the film which stars Jason Bateman, Jason Sudeikis and Charlie Day as three friends who conspire to kill their "horrible bosses" played by Jennifer Aniston, Colin Farrell and Kevin Spacey. Directed by Seth Gordon (The King of Kong), it'll be released July 8. Check out the posters after the jump.
Thanks to Empire (with a heads up from The Playlist) for these beauties.
What's really drawing me, and I'm sure others, to this movie is not the simple, universal feeling of disliking an authority figure or hating your job. Office Space did that. It's that the film, which was co-written by Jonathan Goldstein and John Francis Daley (yes, the star of Bones and Freaks and Geeks), looks like it goes really dark. Getting revenge or playing a joke on a boss is one thing. Hiring Jamie Foxx to help you conspire to kill them, and making it funny, is a whole other thing. The one thing that's not completely selling me on Horrible Bosses is that, for a film with such dark potential, the three stars – Bateman, Day and Sudeikis – are almost too sweet and likable.
Are you anticipating this film in anyway? And do these posters do anything for you?