More Images Of Jennifer Lawrence In 'The Hunger Games'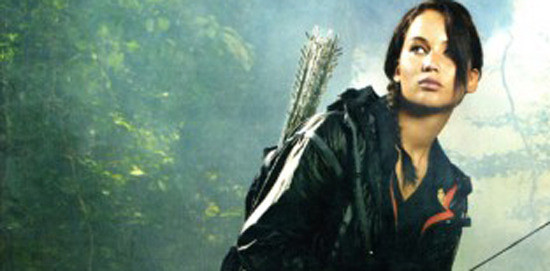 Yesterday we saw the first look at Jennifer Lawrence in costume and hair dye as Katniss Everdeen, the heroine of the Gary Ross adaptation of the young adult novel The Hunger Games. Our first look was a medium shot of Katniss via the cover of Entertainment Weekly, and scans of additional photos from the magazine have now emerged. Check out two new views of the Jennifer Lawrence version of Katniss, after the break.
These scans, like the first image, are from Entertainment Weekly, via The Film Stage.
I can't offer much here, as I'm a total Hunger Games neophyte. These are obviously promo shots rather than frames of actual footage, so don't take any of the lighting or poses to mean much. Rather, these are intended to suggest what the costume will look like and that, yes the bow is very much present. The print edition of EW also offers:
Katniss' Costume: When it comes to the dazzling attire Katniss will wear when she's interviewed in front of the Capital audience, Lawrence couldn't care less. But she was plenty vocal on the subject of her arena outfit – the survivalist-style clothing (seen here) that she wears while fighting for her life. "I'm going to be doing a lot of my own stunts," says Lawrence. "I want to make sure I can run and jump and climb. I've been driving [the costume designer] crazy with the boots: 'You have to fix this here, you have to make it lighter here, you have to open it up here.' The dresses I don't care about them. Just put them on me. It's like Oscar season again."
The cast of The Hunger Games also includes also includes Josh Hutcherson, Liam Hemsworth, Woody Harrelson, Elizabeth Banks and Stanley Tucci.