'Neuromancer' Goes Into Pre-Production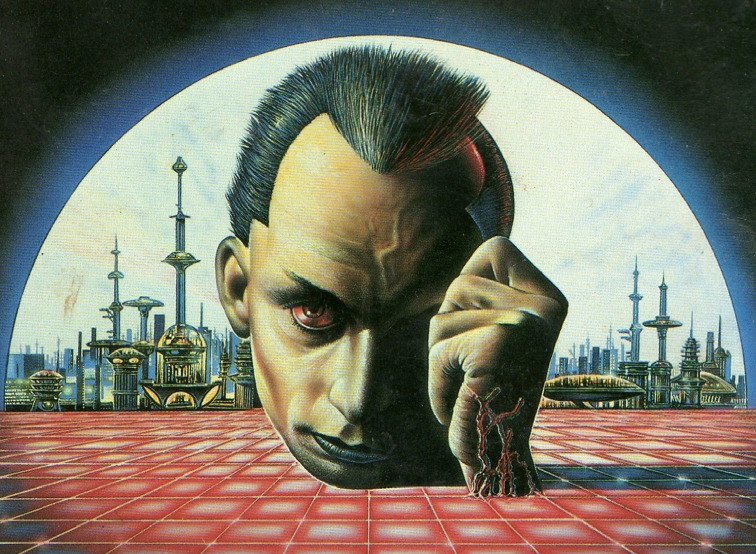 After years in development, Vincenzo Natali's Neuromancer is finally moving forward. According to a press release, the film has secured sales from distributors at Cannes and visual effects work has already begun. Filming will begin in 2012 with locations in Canada, Istanbul, Tokyo, and London.
Neuromancer is an adaptation of William Gibson's award-winning book of the same name. The book is widely regarded as visionary, foretelling certain aspects of the internet and coining the term "cyberspace." Read more of what we know about the project after the jump.
/Film readers will know that many of us here on the site are fans of Natali's work (you can listen to
, and also
hear Natali discussing Splice's disappointing box office numbers
). Through the genre films that he's made, Natali has proven himself quite resourceful, possessing a great eye for design and a keen sense of pacing.
In
my extended interview with Natali last year
, we discussed the possibility that Neuromancer might come to pass. Natali described his vision for the film:
For me, it's a story of redemption, if you want to get down to the core element of it. I think in terms of how you approach Neuromancer now, post-Matrix, post-all the other films that have poached from it, in the 21st century (because the book was written in 1984), I think you have to take those things and use them to your advantage, because what they give you, what The Matrix, for instance, gives you is the opportunity to make Neuromancer in a culture that is already aware of what The Matrix is. I mean, the very word "matrix" is in Neuromancer. It was borrowed by the Wachowski brothers for their film. I think that's a good thing, because I don't even know how someone would have been able to make that film 10 years ago or 15 years ago, because it's so abstract. I don't even know how people understood the book when it first came out. I think I read it in the late 1980s, but in 1984, how would people even understand it, because it was just so far ahead of the curve?
I think when you read it now, it still feels very relevant, maybe in some ways more relevant, because so much of what it predicted has come to pass. And therefore, my approach to it would be to be very realistic. I think The Matrix is a wonderful film, but it absolutely takes place in a comic book universe...everything about it, in the best possible way mind you, but really I think it's a very heightened reality...
[Neuromancer] is a future reality, but I don't want to glamorize it, I don't want to inject steroids into it. I want it to feel very palpable and real, and still exciting, of course, but I think if I had to make a comparison, a little more of the Blade Runner type universe, which is kind of a more adult-type of movie. And that's what I think this film should be because it's dealing with very important and exciting themes. And I think that's where my take on it and what excites me about the book will distinguish it from other films, in so much as, in my mind, Neuromancer is really about our post-human future. It's about how we, in the future, are going to relate to machine consciousness. In the same way that Splice is sort of a treatise on how we're changing our bodies, Neuromancer could be a treatise on how we're changing our minds, evolving our consciousness.
Natali believes that the public was becoming more receptive to science fiction, and that the market is ready for an adaptation of Neuromancer:
I see tremendous potential for it. I actually think the time is now. Also, I think Avatar has been a great harbinger for smart science fiction films. I know some people disagree with me, but honestly I think that film could not have been made by anyone other than James Cameron, and now that it has been made and it's such a success, it proves that hard science fiction — and that film is full of ideas — can work on a large commercial scale. And Neuromancer is definitely within that zone....
As for how he would approach adapting the book, here's what Natali had to say:
I actually really started to break down the book, now that this is looking like it might happen, and I actually don't think you need to stray too far from the book. I think you have to add some connective tissue, and I think that the ending needs to be finessed. I had a conversation with William Gibson about a week and a half ago, and he kind of agreed. You have to retool the ending a little bit. But basically I think the structure is there. And I actually see my version, if it were to be made, as having a little bit more of a literary kind of a structure. There would be a little bit of trickery with the timeline, and we would delve into characters' pasts and then come back into the present. I think that's the way to approach it. And that really excites me, because as somebody who watches a lot of movies and a lot of science fiction films, I'm really getting tired of the same old tropes, the same old kind of structures. If you're going to experiment with narrative structures, this is the movie to do it with.
Here's the full press release announcing Neuromancer's distribution:
Seven Arts Pictures and GFM Films announced today that "Neuromancer," written and directed by Vincenzo Natali and adapted from the William Gibson best-selling novel, has secured sales from distributors in the first three days of Cannes. Territories licensed include: South Korea and Thailand, Taiwan, China, Philippines, Indonesia, Malaysia, and India, CIS, Poland, and the Middle East.
"Response to this cult cyberspace thriller has been tremendous and the film ticks a lot of boxes with distributors. The film will be a Canadian-European co-production with principal photography occurring in Canada, Istanbul, Tokyo, and London. Work on the visual effects has already begun, with an anticipated start date in the first quarter of 2012," said Kate Hoffman, Chief Operating Officer of Seven Arts. GFM also reported advanced discussions in Germany, the UK, France, and the USA.