Watch The Robot-Free First Clip From 'Transformers: Dark Of The Moon'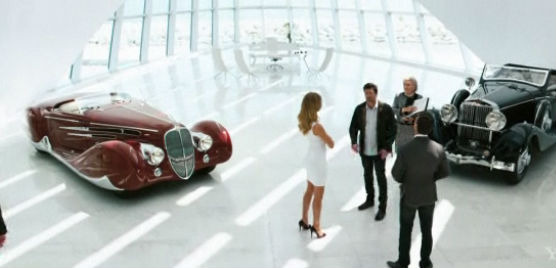 If anyone who watched the latest trailer for Transformers: Dark of the Moon thought it had too much action in it, today is your lucky day. Yahoo has the first full scene from the film and it's totally devoid of action. Or robots. Or walls with color on them. In the scene called "My Secret Weapon" we see Sam's (Shia LaBeouf) totally out of his league girlfriend Carly (Rosie Huntington-Whitely) introducing him to her boss Dylan Gould (Patrick Dempsey). Awkward banter and jealousy ensues.
But wait. Wouldn't it be cool if that red car was Hot Rod?
Thanks to Yahoo Movies for the clip.
Let me be the first to make the obvious joke. Ahem. "Your headline said there was no robots in it but that acting was pretty robotic." Yes, we know. But acting has never been one of the strong suits of the Transformers franchise. What was a strong suit, at least in the first film, was character and this clip attempts to show that  – hopefully – Dark of the Moon will do a bit more character development than the last film.
Also, notice that almost all of Bay's shots have an incredible depth of field. He seems to have really bought into the 3D thing.
And, if you want to further analyze the clip – and why not – which do you think is more likely? That one of those cars is already a Transformer or that one gets turned into a Transformer? The red one (seen above) kind of looks like Hot Rod who, as a huge fan of that character, I'd love to see in the movie. He's probably not in the movie but, much like Sam Witwicky, a boy can dare to dream. If that car turns out to be Hot Rod, I want full credit for the spot.
What do you think of this clip? Do you think it's awkward or the kind of thing you'd expect from a Michael Bay film? Also, what are your thoughts on Rosie Huntington-Whitely? Can she act or no?