'Seeking A Friend For The End Of The World' Announces Full Cast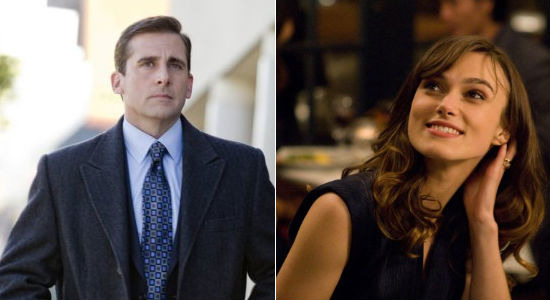 Billed as a "pre-apocalyptic comedy," Seeking A Friend For The End Of The World, starring Steve Carell and Keira Knightly is about to go into production. Though the two leads were announced last month, the rest of the cast for the film – written and directed by Lorene Scafaria (Nick and Norah's Infinite Playlist) – has now been revealed.
It includes Connie Britton (Friday Night Lights), Adam Brody (The OC),  Rob Corddry (Children's Hospital), Rob Huebel (Human Giant), Gillian Jacobs (Community), Derek Luke (Antoine Fisher), Melanie Lynskey (Away We Go), T.J. Miller (Cloverfield), Patton Oswalt (Big Fan) and William Petersen (CSI) just to name a few. Wow. Pretty impressive for a first time director. Read more after the jump.
The official plot description of the film from a Focus Features press release is as follows:
Set in a too-near future, Seeking a Friend for the End of the World explores what people will do when humanity's last days are at hand. Can one man find his greatest love at the worst possible time? As the respective journeys of Dodge (Mr. Carell) and Penny (Ms. Knightley) converge, the two spark to each other and their outlooks – if not the world's – brighten.
That description is a bit vague though, in my opinion. Really what the film is about is a man and his female neighbor who, with the knowledge the world is going to end, set out to find the man's high school sweetheart. On the way, they fall in love.
In addition to all the names listed above, the rest of he cast is as follows:
Roger Aaron Brown (The District), Tonita Castro (The Sarah Silverman Program), two-time Academy Award nominee Melinda Dillon (Close Encounters of the Third Kind), Mark Moses (Desperate Housewives), Lindsay Sloane (Horrible Bosses), and Bob Stephenson (Jericho)
As I said when I first heard about, and wrote about, this film, it sounds like the premise – if handled correctly – could be a real winner. Oscar-caliber even. If Scafaria can correctly balance the romance, dread, comedy and drama then, with that cast, there's no reason why this can't be something special.