Michelle Williams Is The Good Witch In Sam Raimi's 'Oz, The Great And Powerful'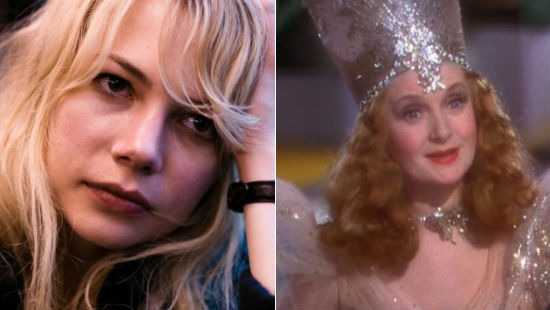 Director Sam Raimi is assembling quite the cast for his Wizard of Oz prequel Oz The Great and Powerful. First he locked up James Franco to play a traveling salesman who finds himself in the magical land, then he cast Franco's Date Night co-star Mila Kunis as the impressionable young witch Theadora, followed by Oscar-winner Rachel Weisz as her evil sister Evanora and now Variety reports that he's cast Oscar nominee Michelle Williams as Glinda, the good sister who, along with Franco, battles for control of Oz against the brunette beauties.
Variety broke the news of Williams joining the movie, which completes the casting of the four leads. Here's the description of the plot, now filled in with the actors portraying each role:
Kunis will co-star opposite James Franco, who portrays a fast-talking snake oil salesman and illusionist who flees a traveling circus and winds up whisked away in a hot air balloon by a tornado to Oz where he must face off against real magic and the sisters battling for control of the land. Theadora (Kunis) starts out as a good witch, alongside her beautiful sister Glinda (Williams), but after her sexual advances are jilted by Franco's salesman, she's convinced by Evanora (Weisz) to switch sides and help her older sister rule Oz.
So it's Franco and Williams vs. Kunis and Weisz. Game on. Filming begins in July aimed at a possible Fall 2012 release.
Williams' Glinda eventually becomes The Good Witch of the North, who was famously portrayed by Billie Burke in the 1939 film while Kunis' Theadora has the most substantial arc, going from good girl to pure evil, and eventually becoming the Wicked Witch of the West.
The more we hear about this film, the more we get excited about it. How can you not? The three actresses are outstanding, Franco is great and Raimi making a Disney movie sounds like a recipe for something new and interesting much in the way Tim Burton doing Alice in Wonderland did. Financially, that worked out well, but critically, not so much, so I guess we'll have to wait and see. How do you think this film is going to turn out?