Casting Bits: Kiefer Sutherland And Kate Bosworth In 'Fairytale Of New York;' Yvonne Strahovski In 'My Mother's Curse;' Two New Projects For 'Bridesmaids' Co-Star Melissa McCarthy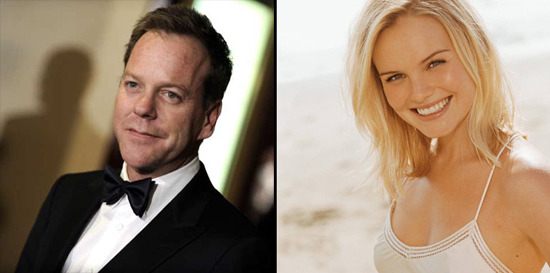 While he waits for the 24 film to move forward, Kiefer Sutherland is going to romance Kate Bosworth in New York. A film called Fairytale of New York (which only conjures up memories of the Pogues song) has been written by Jeff Murphy and will follow an Irish standup comic who meets an American woman in a NYC art gallery while on a working tour of the States. I can't get too bent out of shape about another romcom, but I'll be pretty curious to hear Kiefer Sutherland's accent. He was born and spent his early life in the UK, but I'm so accustomed to his distinctive voice that  the idea of him sporting an accent seems unusual. [THR]
After the break, Seth Rogen gets company in My Mother's Curse, and Bridesmaids standout Melissa McCarthy is the focus of two new projects.
Seth Rogen and Barbara Streisand are, somehow, still planning to make a road comedy for Paramount called My Mother's Curse, with Anne Fletcher (The Proposal) directing a script written by Dan Fogelman (Cars). The story sees an inventor and his mother taking a cross-country trip so that he can make money from his newest invention and she can reunite with a lost love. Now the son's lost love is cast: Yvonne Strahovski (Chuck) has signed on. We don't know how much screen time she'll get, but Chuck fans can treat this as a little bonus to go along with the show's recent renewal. [THR]
Finally, we turn to Melissa McCarthy, who could very well end up being one of the breakout stars of Bridesmaids. She's already been building a fanbase on shows like Gilmore Girls and Mike & Molly, but she's such a powerhouse in Bridesmaids that things are likely to really start coming her way now. Indeed, Deadline says that she and Bridesmaids co-writer Annie Mumolo have sold a pitch to Paramount that will see McCarthy  stealing the Stanley Cup. There's probably a bit more to the story than that (and it isn't the first time the Cup has been targeted on screen) but for now we'll have faith that more will be revealed. And EW (via the Playlist) reports that Paul Feig is developing a new comedy for the actress as well.