The Alamo Drafthouse Targets Texas With This Year's Rolling Roadshow Lineup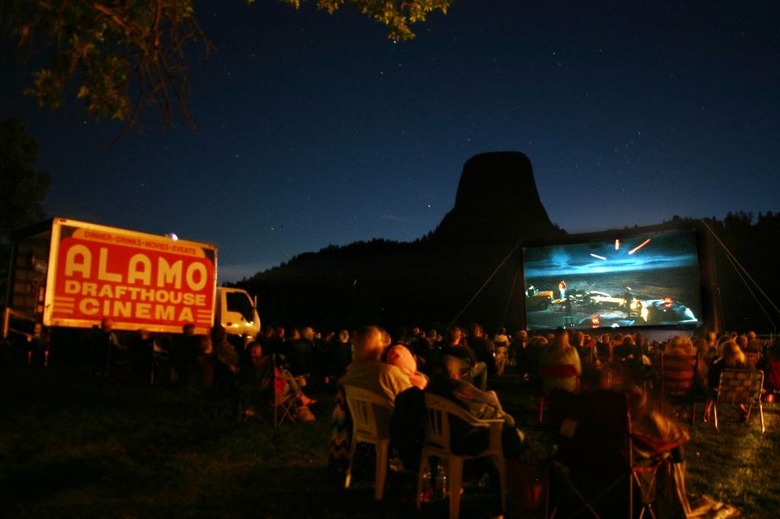 Feel like watching some of the biggest American films under the big skies of Texas? (I know Montana is the Big Sky state, but I'm briefly re-purposing the phrase.) For several years the Alamo Drafthouse has done a series of free, first come first seated screenings of famous films in locations featured in or related to the movies. There have been events like Close Encounters of the Third Kind at Devil's Tower (pictured above), Deliverance in the North Georgia mountains, and The Warriors on Coney Island, complete with a scavenger hunt.
This year the Roadshow is targeting Texas in June, with ten screenings of Texas-appropriate films like Giant, No Country For Old Men, The Texas Chainsaw Massacre and more. The full schedule is after the break. As is often the case with Rolling Roadshow screenings, most of these are taking place well outside major metro areas, so you might have to make a trip just for the film. But that's part of the point, right?
Here's the schedule. Keep an eye on the Rolling Roadshow website for more info.
The Searchers
June 3
Fort Parker, TX
The Texas Chainsaw MassacreJune 4
Kingsland, TX
Blood SimpleJune 5
Austin, TX
HUDJune 11
Claude, TX
Red RiverJune 17
Fort Worth, TX
Bonnie and ClydeJune 18
Pilot Point, TX
Tender MerciesJune 19
Waxahachie, TX
No Country For Old MenJune 24
Marfa, TX
GiantJune 25
Marfa, TX
The Last Picture ShowJuly 1
Archer City, TX