Chris Hemsworth Confirmed For 'Snow White And The Huntsman'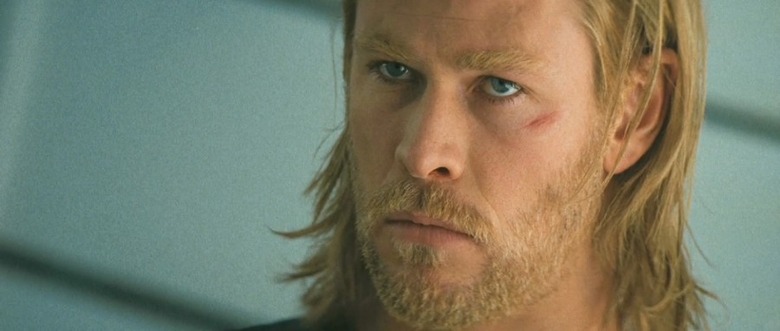 Chris Hemsworth has been the favorite to play the Hunstman in Universal's Snow White and the Huntsman for the past couple weeks, and with Thor opening to solid numbers all around the world, he's now closed a deal to take the role. He'll be working under the direction of Rupert Sanders and playing opposite Kristen Stewart (as Snow White), Charlize Theron (as the Evil Queen) and Sam Claflin (as the Prince).
Snow White and the Huntsman follows the two title characters after they go on the run when the Huntsman disobeys the Evil Queen's order to kill Snow White. He teaches her the ways of the forest and survival, but is more a mentor than a romantic interest. (That's what the Prince is around to do.) So will there be a rewrite to account for the fact that the Chris Hemsworth version of the character is going to be younger than was originally intended? Maybe not a significant one; Chris Hemsworth should be able to get across the idea of the character's history. He'll be more of an obvious romantic interest than would have been the case if, say, Viggo Mortensen had stayed in the role. But a couple script changes could deal with that, too.
Chris Hemsworth is also in two movies have have been sitting on the shelf for some time, both thanks to MGM's financial quagmire. One is the Joss Whedon-produced The Cabin in the Woods, which LionsGate will release later this year. The other is the Red Dawn remake, which doesn't currently have a release set. But given that it can now be marketed on the back of Thor, expect that to change pretty quick. [Deadline]