Martin Scorsese And Lars Von Trier's New 'Obstructions' Confirmed; Will 'Taxi Driver' Be Their Raw Material?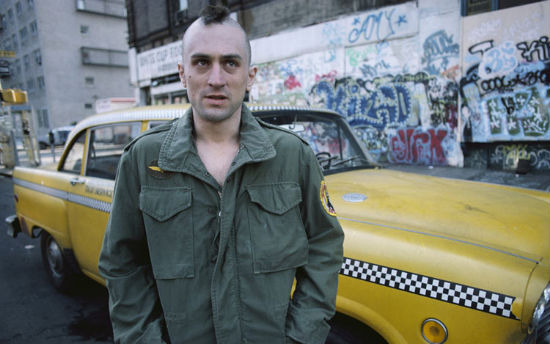 There are many reasons I am glad that Lars Von Trier is out in the world, playing with film, and one is that he actually plays with film. Sometimes that playfulness is also quite perverse — OK, it is often perverse — but that's still valuable. Dogme was an attempt to set boundaries in which films could be made with an artistic (and consequently a political) freedom from the tropes of Hollywood filmmaking. And The Five Obstructions, in which LVT challenged Jorgen Leth to remake his short The Perfect Human in five ways, with different 'obstructions' in his way each time, was another way to play with the creative boundaries of filmmaking.
Over a year ago, a meeting between Lars Von Trier and Martin Scorsese produced the rumor that LVT might remake Taxi Driver, possibly in a framework like The Five Obstructions. That was quickly denied, but that denial said that Lars Von Trier wasn't going to remake Taxi Driver. What if Martin Scorsese would? Now there is confirmation from their respective production companies that both directors will participate in The Five Obstructions (yep, same title) and the unconfirmed rumor is that Martin Scorsese's narrative material will indeed be Taxi Driver.
Screen Daily says that the two filmmakers are "officially confirmed" to work together on the project. There are really no more details, beyond the fact that this project should shoot next year. (Before, or after Martin Scorsese makes Silence? We don't know.) Zentropa Real and Scorsese's Sikelia Productions are co-producing. Variety reports the project's title.
So let's talk about the merits or gibbering insane heresy of using Taxi Driver in this context. Actually, rule out the idea that it is heresy, because that is ridiculous. Nothing that will be done here will change the existence of the original film — hell, you can currently even see it on screens around the country and in an amazing new blu-ray presentation.
And let's go back to comments made by Martin Scorsese after doing the Boardwalk Empire pilot, where he talked about how energized he was after working at the pace required for television. Imagine him wrestling with Lars Von Trier — a true cinematic imp of the perverse — and doing so quickly and cheaply. Imagine the idea of an established master being brazenly challenged to rethink his methods. The result may or may not be great cinema — the original The Five Obstructions isn't, though it is a very unusual and worthwhile document of a process. This film could do a lot of things: provide a new way to look at an established classic like Taxi Driver; give Scorsese new ideas; or simply be a good piece of entertainment. (Those are hardly the only options, obviously, just ones off the top of the head, given how little confirmed info exists.)
The two could also be doing a new Five Obstructions that has nothing to do with Taxi Driver at all.