Alejandro Jodorowsky's Failed 'Dune' Adaptation Finally Hits Screens (Sort Of) Via The Doc 'Jodorowsky's Dune'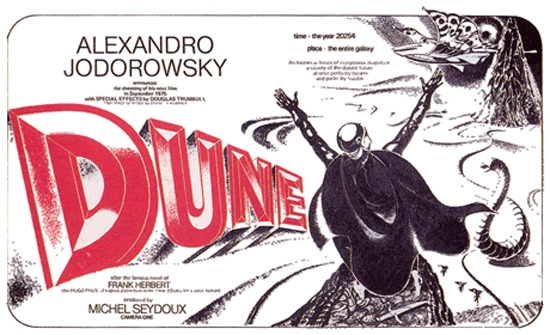 It seems like this year's Cannes festival is providing a more bountiful crop of new projects than normal, and this film might be one of the best, or at least one of the most exciting for sci-fi nerds. Emerging at the fest is a doc called Jodorowsky's Dune, which seeks to tell the story of the attempt by wildman Chilean filmmaker Alejandro Jodorowsky to adapt Frank Herbert's novel Dune in the mid-'70s.
Production designs (by artists like H.R. Giger and Jean 'Moebius' Giraud) have floated around for years, but the full story of the film that never was has never quite been told. If you have even a passing interest in Dune or the development of sci-fi films, this doc should go on your watch list.
Frank Pavich, who made the doc about New York's '80s hardcore music scene (appropriately titled N.Y.H.C.) is directing, and he has secured interviews with Alejandro Jodorowky, H.R. Giger and "other surviving members of the original team." Those interviews are what might make this doc a sort of holy grail for those of us who have long wondered what Jodorowsky's Dune might have been like.
It's possible that you don't know why this version of Dune is legendary. Maybe you've never seen Jodorowsky films like The Holy Mountain or Santa Sangre. (The latter is currently streaming on Netflix.) So I'll let the director explain it to you. The short form, however, is that his vision for the movie was insane. Viz:
To show the process of illumination of a hero, then a people, then a whole planet (which in its turn is the Messiah of the Universe since by giving up its orbit, the holy planet leaves to spread its light throughout all the galaxies)...
I did not want to respect the novel, I wanted to recreate it. For me Dune did not belong to Herbert as Don Quixote did not belong to Cervantes, nor Edipo with Esquilo.
In my version of Dune, the Emperor of the galaxy is insane. He lives on an artificial gold planet, in a gold palace built according to not-laws of antilogical. He lives in symbiosis with a robot identical to him. The resemblance is so perfect that the citizens never know if they are opposite the man or the machine...
In my version, the spice is a blue drug with spongy consistency filled with a vegetable-animal life endowed with consciousness, the highest level of consciousness. It does not stop taking all kinds of forms, while stirring up unceasingly. The spice continuously produces the creation of the innumerable universes.
Oh, and to play the Emperor? Jodorowsky wanted Salvador Dali. Find the full text of the essay from which I cribbed those quotes at Duneinfo.com.
Distribution sales for this one will be ongoing at Cannes, so hopefully deals will be locked in place and we'll get to see the film sometime in 2012. [THR]