'Cars 2' Trailer #4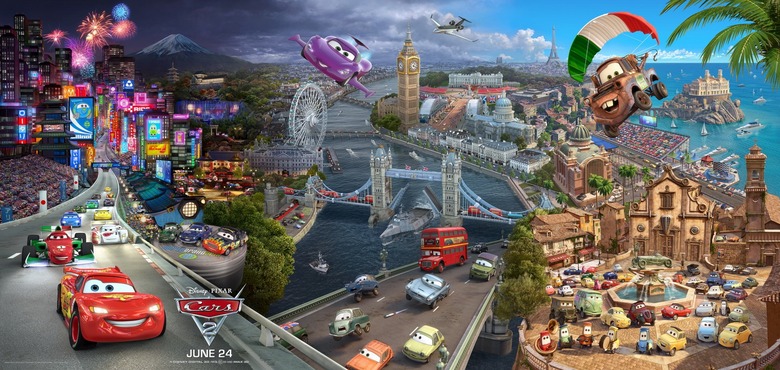 Just on the off chance that you'd overlooked the fact that a sequel to Cars is being released this summer, Disney and Pixar have released another full-length trailer (after a unleashing a legion of clips and TV spots) for Cars 2. The Disney/Pixar channel on YouTube calls this trailer #4, and who am I to argue? There is some new footage here, and the trailer is cut well, but at this point either you're on board for Cars 2 or you're not. If by some chance you're new to the fact that the film exists, hit the break for the new trailer, or check it out if you can't wait for the film to open on June 24.
Apple has the trailer in HD, as well as another new clip.
Star racecar Lightning McQueen (voice of Owen Wilson) and the incomparable tow truck Mater (voice of Larry the Cable Guy) take their friendship to exciting new places in "Cars 2" when they head overseas to compete in the first-ever World Grand Prix to determine the world's fastest car. But the road to the championship is filled with plenty of potholes, detours and hilarious surprises when Mater gets caught up in an intriguing adventure of his own: international espionage. Torn between assisting Lightning McQueen in the high-profile race and towing the line in a top-secret spy mission, Mater's action-packed journey leads him on an explosive chase through the streets of Japan and Europe, trailed by his friends and watched by the whole world. Adding to the fast-paced fun is a colorful new all-car cast that includes secret agents, menacing villains and international racing competitors.