Casting Bits: Jeff Garlin And Mary Lynn Rajskub In 'Safety Not Guaranteed', Brent Barrett And Jenn Harris In 'Silence! The Musical', Hilary Swank May Star In 'You're Not You' Opposite Jeremy Renner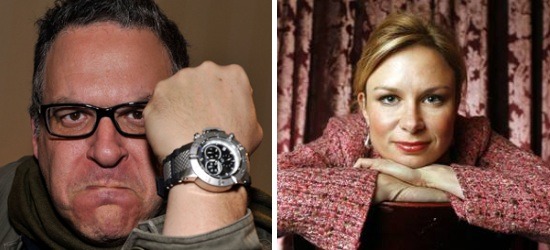 Funny folks Jeff Garlin and Mary Lynn Rajskub have signed on for Safety Not Guaranteed, which will also star Kristen Bell, Aubrey Plaza (Parks & Recreation), Lynn Shelton (Humpday), Jenica Bergere (Rat Race), Jake Johnson (No Strings Attached), Mark Duplass, and newcomer Karan Soni. The comedy centers around "three magazine employees sent to investigate a classified ad from a man seeking a partner for time travel" and is based on an actual ad that was once featured on the Jay Leno Show.
Safety Not Guaranteed will be the first feature by Colin Trevorrow, who is directing from Derek Connolly's original screenplay. Big Beach Films (Little Miss Sunshine) and Duplass Brothers Productions (The Puffy Chair) are producing, which should probably give you some hint as to what kind of humor and general vibe we can expect. The film is currently shooting in Seattle. [The Hollywood Reporter]
After the jump, Hilary Swank considers co-starring with Jeremy Renner and a Silence of the Lambs parody musical hits Off Broadway.
Though Swank doesn't plan to star in all the films she produces, she expressed her interest in taking on the lead role in this particular film, which centers around a thirtysomething woman with Lou Gehrig's Disease and her young caretaker. The amazingly ubiquitous Jeremy Renner is attached to play the sick woman's husband. [Thompson on Hollywood]
Finally: This isn't film news per se, but it's close. Stage actors Jenn Harris and Brent Barrett have just been announced as the leads of Silence! The Musical, an Off Broadway musical parody of classic horror Silence of the Lambs. The play will hit New York City this summer.
Silence! initially debuted in 2005 at the New York International Fringe Festival to sold-out crowds, and has already enjoyed a well-received run in the U.K. last year. Harris, who appeared in the Fringe show, is set to star as FBI agent Clarice Starling, while Broadway vet Barrett will play Hannibal Lecter. Stephen Bienskie will reprise his role from the Fringe run as serial killer Buffalo Bill. Christopher Gattelli, who directed Silence! at Fringe and in London, will direct.Silence! The Musical will be playing at Theater 80 in Manattan June 24-August 13. Check the show's official website for more info — and to listen to the tracks. [Variety]