'In Bruges' Conspirators Colin Farrell And Martin McDonagh Reunite For 'Seven Psychopaths;' Rockwell, Walken & Rourke Along For The Ride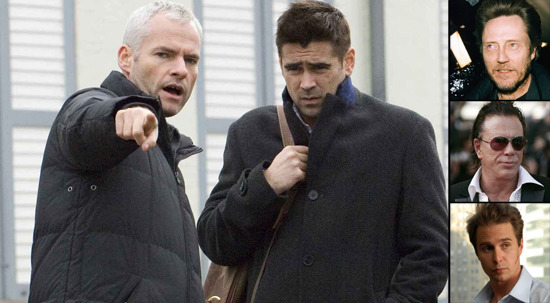 Let's get into character here: this f***ing news is better than spending a night with a manky Dutch whore and a shitload of horse tranquilizer. In Bruges writer/director Martin McDonagh has written and will direct a film called Seven Psychopaths, and Colin Farrell is starring. Your indie heroine Megan Ellison is financing, and today at Cannes the project added Sam Rockwell, Mickey Rourke and Christopher Walken. Those last two sentences are my favorite things I've written in days. If you feel about In Bruges the way some do, with Martin McDonagh writing and directing little questions like the plot of the film probably don't even matter. But if your curiosity gets the better of you, that info is after the break.
Variety announces that the film is about "a screenwriter (Farrell) struggling for inspiration for his script, "Seven Psychopaths," who gets drawn into the dog kidnapping schemes of his oddball friends (Rockwell and Walken). Things take a turn for the worse when a gangster's (Rourke) mutt goes missing."
Frankly with Martin McDonagh again directing Colin Farrell, I don't care what the movie is about. I don't care that Mickey Rourke appears to have sent his career right back into a tailspin. I have faith that, even if Rourke wants to take a dump on the set, McDonagh will be able to spin some gold out of it. And I know that he'll get good work out of Sam Rockwell and Christopher Walken. (A Behanding in Spokane, Martin McDonagh's most recent play, ran on Broadway with Sam Rockwell and Christopher Walken in the cast. McDonagh didn't direct that, however.)
And as much as I appreciate the vulgar humor of his last film — In Bruges has some of the most absolutely quotable dirty dialogue in the last five years — it is the fact that the film was quite sad and even soulful in addition to being crazy and funny. There is a sheen of comedy and gangster violence, but it's the stuff underneath that gives the movie life. Another director wouldn't be able to break you with the scene between Colin Farrell and Brendan Gleeson in the park in Bruges, but Martin McDonagh nailed it. I don't know if that blend of tone and depth is what he's aiming for with this second film, but my hopes are up.
This isn't even a new project. If you read interviews around the time of In Bruges, you might remember that Martin McDonagh said things like this:
I've got a couple of film scripts that are ready to go. I'm not going to do anything with them for a couple of years, until I've traveled and had some fun. But there's one called Seven Psychopaths; if I do another film, that'll be it.
Here we are, three years later, and it is happening. A man of his word. I like that. And, obviously, I love this news.