'The Monster Of Nix' Teaser: Tom Waits Voices His Dark Ambition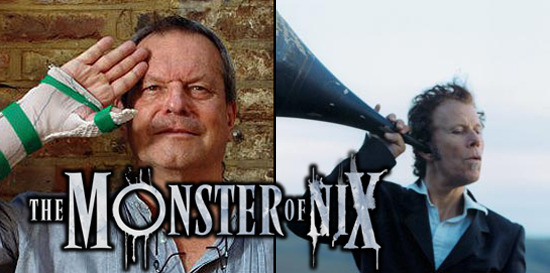 About a month ago, I wrote up info on a Dutch animated short called The Monster of Nix, which was notable for (a) some really wild character designs, and (b) the fact that Terry Gilliam and Tom Waits are voicing characters. It kinda flew under the radar, so here's another chance to check it out.
A new teaser clip has appeared for the film, and it features the voice of Tom Waits as a very strange bird. Check it out below.
The first teaser clip that was released (see the post linked above) didn't look great, but this one has me locked in. I love it.
Recapping what we know about the film, artist/director Rosto directs, and The Monster of Nix is an animated musical about Willy, "a troubled boy who fights the destructive force of an all-devouring monster in the village of Nix." Tom Waits voices Virgil, "a terrifying giant pitch-black swallow," and Terry Gilliam is voicing the Ranger, "who locks himself up in terror in his forest cabin."
The director said in a press release,
Tom Waits was always the main inspiration for the dark and theatrical appearance of Virgil. But I had never expected to actually have the privilege to work with Tom. The results are gobsmacking...
I asked Gilliam because I thought his voice was made for this role. He felt rather uncomfortable about the singing. And that's exactly how I wanted this character to sound: scared and insecure. The poor bastard suffered but I got exactly what I wanted.
Rosto wrote the music for the film, and the score features contributions from  the Dutch Metropole Orkest, long-running experimental band The Residents and French indie band The Dø.