This Week In DVD & Blu-Ray: Blue Valentine, I Saw The Devil, The Illusionist, Black Death, No Strings Attached, And More
We may receive a commission on purchases made from links.
This Week in DVD & Blu-ray is a column that compiles all the latest info regarding new DVD and Blu-ray releases, sales, and exclusive deals from stores including Target, Best Buy and Fry's.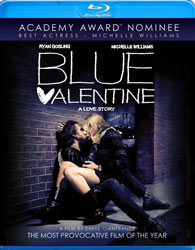 BLUE VALENTINE
If you're lucky, you won't be able to identify with Blue Valentine. If you're less lucky, it will remind you a great deal of your parents, siblings or friends. Pray though, that it doesn't remind you of yourself. There's nothing more miserable than being proven the futility and fleeting nature of romantic love, unless of course it perfectly encapsulates your biggest life decisions. This film is an all-too-real snapshot of both the best and worst parts of a relationship, which is really just another way of saying the beginning and end of one. It's half Before Sunrise and half Revolutionary Road, slammed right up against each other to juxtapose the beauty and ultimate folly of one of life's most fundamental goals: to fall in love and spend your life with someone. Many people will probably take sides while watching Blue Valentine, accusing the wife of being cold and distant or blaming the husband for being immature and without ambition. But that would be missing the point. These are two people, flawed but well-meaning, who made the choices they made and must live with them. They would like things to be different — and they would like each other to be different — but they're not, and that's just the way life is. It's easy to point fingers, but not everything is somebody's fault. Sometimes people just grow apart, and it takes time (and the mounting conflict that time permits) for them to accept it. Blue Valentine captures this aspect of life better than almost any film I've seen. It's raw and devastatingly real, written and directed with an almost invisible hand by Derek Cianfrance, and acted with incredible earnestness by Ryan Gosling and Michelle Williams. It won't leave you smiling, but it will get you thinking about your own relationships — past, present and future — and will hopefully help someone out there to think twice before making the same mistakes.
Available on Blu-ray? Yes.Notable Extras: DVD & Blu-ray – Deleted Scenes, Making of Blue Valentine, Commentary, and Home Movies.
BEST DVD PRICE
Target
Best Buy
Fry's
$17.99
$16.99
N/A
Amazon – $16.99
BEST BLU-RAY PRICE
Target
Best Buy
Fry's
$22.99
$19.99
N/A
Amazon – $18.99
EXCLUSIVE DEAL:What? DVD comes with bonus CD.Where? Target.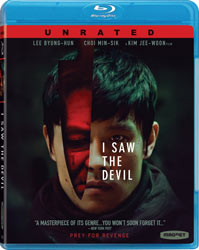 I SAW THE DEVIL
In recent years, South Korean cinema has consistently produced some of the medium's most violent, bizarre, unpredictable and challenging narrative works, and director Kim Jee-woon has already proven to be one of the industry's leading voices (see: The Good The Bad The Weird, A Bittersweet Life, A Tale of Two Sisters). There's no question that my familiarity with these films informed my viewing of I Saw the Devil, as did the ridiculously badass red band trailer for the film. And being that these are films that tend to explore recurring themes in stylistically similar ways — in this case, condemning the drive for revenge as a destructive force — the unavoidable reality of overexposure is that what worked so well the first time isn't necessarily going to play as effectively the sixth or seventh time you've seen it. However, as Park Chan-wook demonstrated with his "revenge trilogy", there's nothing with wrong with treading familiar ground as long as you're capable of bringing something new to the table. That's what struck me as a little disappointing about I Saw the Devil: It has nothing new to say. It does, however, say what it says more brutally and viciously than anything that's come before it. In its own sick way, that's something to be admired. The craftsmanship of it is impeccable, with plenty of tensely/horrifyingly staged action beats, but its characters also lack depth, and its story lacks an emotional pull to match the intensity of its visceral momentum. If its substance you're looking for, look elsewhere. But if it's unflinching thrills you're after? By all means, take the ride.
Available on Blu-ray? Yes.Notable Extras: DVD & Blu-ray – A behind-the-scenes featurette and deleted scenes.
DVD PRICE
Amazon – $15.99
BLU-RAY PRICE
Amazon – $19.99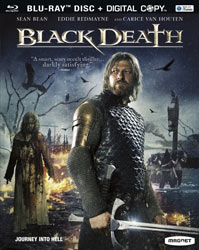 BLACK DEATH
Christopher Smith's follow-up to his shamefully little seen mindfuck Triangle is a considerably more grim and dour affair (which is saying something), but I guess the topic of religion can bring that out in a person. Like almost all of the releases this week, there's very little that's "fun" about Black Death. It's a movie that aims to explore a complex issue, and it lets no amount of social stigma get in the way of exploring it in as blunt of terms as the issue deserves. Contextualizing the core of the world's conflicts as they stand today, the film looks back to a time when civilization was it its most barbaric, shining a light on the terrifying prospect that not all that much has really changed. Whether you're fighting for the God you know in your heart to be true, or against the violent tyranny of a religious force that you know is wrong, our resolute fervor for our belief systems in the face of differing opinions rarely leads to anything positive, regardless of the reasoning behind them. It's a rather obvious point to make, but Black Death makes the point so well that you may end up leaving it with a disenchanted acceptance that the future of our species is pretty much fucked. (I didn't, but that's only because I accepted it long ago.)
Available on Blu-ray? Yes.Notable Extras: DVD & Blu-ray – Deleted Scenes, Bringing Black Death to Life, Interviews with Cast and Crew, Behind the Scenes Footage, and HDNet: A Look at Black Death.
DVD PRICE
Amazon – $15.49
BLU-RAY PRICE
Amazon – $19.99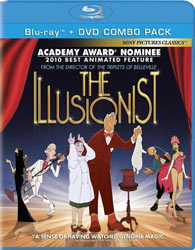 THE ILLUSIONIST
Purely on the strength of its astoundingly gorgeous hand-drawn animation, The Illusionist is a must-see. But as a narrative? Well, your own cinematic preferences will surely dictate this, but for me it didn't have nearly the charm of The Triplets of Belleville. That film was a great deal odder; more lively; more fun. And it made me laugh like a mad man. The Illusionist, meanwhile, is confidently subdued. It's quiet and slight and bittersweet — not quite realistic, but enough so that it still feels grounded. Like The Triplets of Belleville, the film is almost entirely silent and frequently gag-driven. They're nice gags, too, but with such a calm pace, they rarely elicit more than a soft chuckle. If only the story was stronger, it might've compensated for it. The concept is amusing enough: An aging magician, faced with the changing times, bonds with a young girl who is still awed by his "magic", and tirelessly works to keep up the charade. It's a bit like Life is Beautiful, except with none of the conflict. I didn't mind that. Where it lost me was the relationship between the magician and the girl. There's a nice idea there, but nothing truly meaningful to latch onto — no genuine connection to give the film any emotional heft. In another film, that might pose a bigger problem. In today's era of CGI, with its slick and impersonal sheen, my love for traditional animation won out. There's so much personality packed into every frame of The Illusionist, I was happy just looking at it.
Available on Blu-ray? Yes.Notable Extras: Blu-ray – Includes a copy of the DVD, as well as Commentary with Director Sylvain Chomet and The Making of The Illusionist.
BLU-RAY PRICE
Amazon – $24.99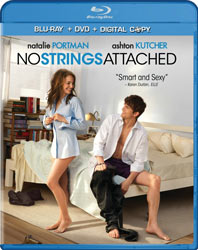 NO STRINGS ATTACHED
No Strings Attached is a touch better than most romantic comedies — which still means it's worse than most movies. It plays up its lascivious premise just enough to appear edgy and modern, but not enough to actually do anything new or polarizing with it. In the end, it's just another stock rom-com following a stock rom-com formula. Granted, it follows it fairly well, and it's carried nicely by winning performances by its stars (Natalie Portman and Ashton Kutcher share surprising chemistry) and supporting cast (Greta Gerwig and I might share surprising chemistry, too, if she'd hurry up and reciprocate my love).
Available on Blu-ray? Yes.Notable Extras: DVD – Commentary with director Ivan Reitman, deleted scenes, alternate storylines, and 2 featurettes ("Sex Friends: Getting Together", "Inside the Sassy Halls of Secret High"). Blu-ray – Includes everything on the DVD, as well as an additional featurette ("Modern Love: The Do's and Don'ts"), and a digital copy of the film.
BEST DVD PRICE
Target
Best Buy
Fry's
$15.99
$14.99
N/A
Amazon – $16.99
BEST BLU-RAY PRICE
Target
Best Buy
Fry's
$22.99
$19.99
N/A
Amazon – $24.99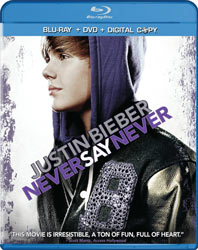 JUSTIN BIEBER: NEVER SAY NEVER(Releases on Friday, May 13)
At times like these, it's appropriate to say 'never'.
Available on Blu-ray? Yes.Notable Extras: DVD & Blu-ray – Concert Dance Off – Justin and his crew show off their amazing moves, Favorite Girl – Full-length concert performance from the Director's Fan Cut, R.I.P. Hair Flip – Justin says goodbye to his signature 'do, and Giving Back – Justin's team suprise lucky fans with concert tickets!
BEST DVD PRICE
Target
Best Buy
Fry's
$15.99
$13.99
N/A
Amazon – $17.99
BEST BLU-RAY PRICE
Target
Best Buy
Fry's
$19.99
$19.99
N/A
Amazon – $24.99
Other noteworthy DVD (and Blu-ray) releases this week...Cropsey – Something Wild (Criterion Collection) [DVD / Blu-ray]Noteworthy Blu-ray-specific releases this week...Some Like It Hot – Alien – Aliens – Alien 3 – Alien: Resurrection

NOTES: Some deals may vary by store. Some deals may be in-store only. All deals are for DVDs unless otherwise noted.

$7.99 – Blu-ray sale: Hancock, Ghost Rider, Office Space, Super Troopers$9.99 – Blu-ray sale: Fast & Furious, The Fast and the Furious$12.99 – Blu-ray sale: Taken, Casino Royale, The Princess Bride, Boondock Saints II

Exclusive: Trade in an original, commercially released DVD (no burned copies) with its original case and you'll receive a $5 coupon that's valid on select Blu-ray movies. Visit BestBuy.com/tradeandsave for a complete list of Blu-ray movies and full details.