Woody Harrelson Is Haymitch In 'The Hunger Games'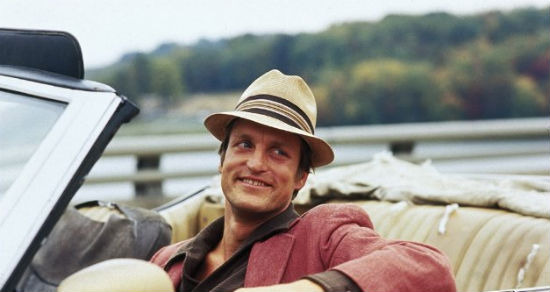 We thought it was John C. Reilly, then it was rumored to be Woody Harrelson and – it turns out – the latter is actually true. The Hollywood Reporter says that Harrelson has just landed the plum role of Haymitch Abernathy in Gary Ross's adaptation of the popular Suzanne Collins young adult novel The Hunger Games. As I've stated before, Haymitch is "kind of The Hunger Games equivalent to Dumbledore in Harry Potter. A drunken, former winner of the Hunger Games who helps to train Katniss (Jennifer Lawrence) and Peeta (Josh Hutcherson) for the televised battle to the death." We ranked it as the #1 most important role left to be cast and it's a role that becomes increasingly significant if the sequels Catching Fire and Mocking Jay get made.
Oh, and you can finally breath a sigh of relief. Not only has the most important role left to be cast actually been cast, but the last faceless Tributes have been too. Jeremy Marinas and Dakota Hood were just announced as the District 10 Tributes, meaning only the all-important District 2 Tributes Cato and Clove remain.
The Hollywood Reporter seems to have broken the new of Harrelson's involvement even before The Hunger Games Facebook could jump on it.
As much as Reilly was a good choice to play Haymitch, Harrelson is a perfect choice. The right choice. Not only do we know he can play a functioning drunk, as we've seen in films like Kingpin, he can also play an aging bad-ass, like in Zombieland or a straight shooting serious type, like in The Messenger. He, unlike Reilly, has the ability to come off as incredibly smart while simultaneously seeming like a mess. And that's the essence of Haymitch Abernathy.
On an pseudo-related side note, while I love this casting, I saw The Beaver last night and am totally not sold on Lawrence as Katniss. She's an amazing actress, no doubt, but she's simply too developed, too pretty and too old to play the role. She'll be fine, but I just think she's wrong. She might have dirtied herself up in Winter's Bone but, since then, her sex appeal has increased ten fold. Maybe Harrelson will knock her down a peg.
The next two important roles to look out for are President Snow, the villain of the entire series and Cinna, Katniss's designer and trusted ally.
Thoughts on Woody Harrelson as Haymitch?